Prophet sues broadcaster over Liverpool title prediction
Last updated on .From the section Football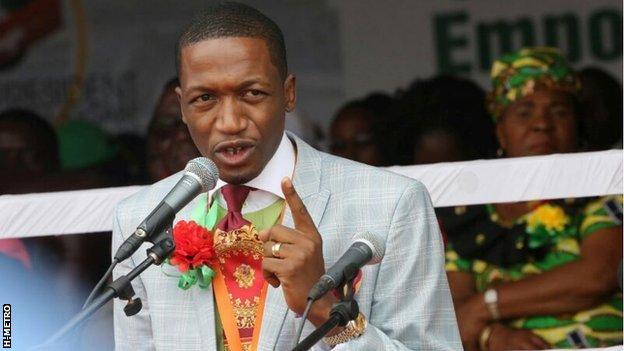 A Zimbabwean prophet has launched a $1.5m legal claim against a South African sports broadcaster over its claim he predicted Liverpool would win this season's English Premier League.
Spirit Embassy Church leader Uebert Angel ([pictured) denies making the prediction, which was reported on SuperSport's website in December.
Liverpool are currently second in the league with 10 games to play.
But Angel feels his reputation will be damaged if they do not win the title.
A summons in Harare High Court read: "The plaintiff claims the sum of $1,500,000 considering his character and stature as a prophet with great following... who is respected the world over by religious, social and political leaders."
Angel says he is entitled to compensation as it would be "difficult to rehabilitate completely a reputation even if it is proved in court that the statement was misguided...".
SuperSport Communications Manager Clinton Van Der Burg told BBC Sport: "SuperSport is aware of the matter. SuperSport denies liability and will contest the charges vigorously."
Angel said that Johannesburg-based SuperSport published the story under the headline: "Zimbabwean prophet predicts Liverpool to win title."
The Herald newspaper, quoted the Angel as saying: "Liverpool, I am with you this year and God has shown me he is returning you to your glory days."
SuperSport broadcasts live English Premier League matches in several African countries.