Lionel Messi: Barcelona star's 'crisis' year could be his best ever

By David Bond
BBC sports editor
Last updated on .From the section Football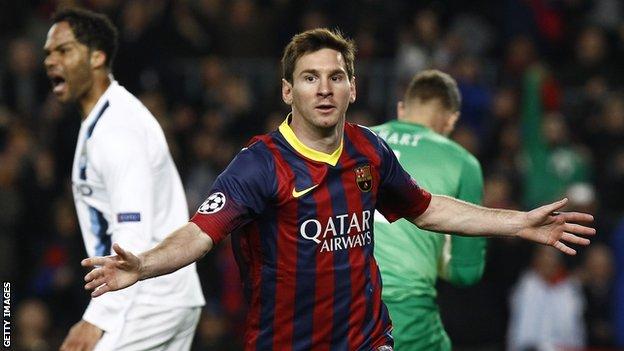 "Messi's worst season for years," was the headline on the front page of Spanish newspaper Marca on Tuesday.
Having watched Barcelona's Argentine forward run rings around Manchester City at the Nou Camp a day later, one can only wonder what he must be like when he's having a good one.
It is true he hasn't been operating at quite the same unbelievable levels he attained during the last couple of years. But there are mitigating circumstances.
Injuries have held him back (he missed two months of the season) and there are questions about his relationship with Brazil star Neymar, the club's big summer signing. Judging by the City game, it's clear they aren't gelling quite yet. Mind you, there have not been that many times when they have started together.

There is also lots of talk in Spain that the system being used by coach Gerardo Martino makes it harder for Messi to see quite so much of the ball.
But according to Messi's statistics, he is still deadly when he does get it.
Football writer Guillem Balague, author of a biography on the 26-year-old star, noted recently that Messi's passing and shot rate are actually at the same high standard as in previous seasons. And while his great rival Cristiano Ronaldo might have scored more goals this season, Messi's shot-to-goal ratio is almost identical.
So far this season he has scored eight goals in the Champions League and 15 in the Spanish League. His strike rate is a goal about every 100 minutes.
That's down on his previous average of a goal every 57 minutes and he is probably not going to emulate the 56 goals he scored in all competitions last season.
But let's face it, this is no crisis. His exquisite finish on Wednesday ended Manchester City's hopes of pulling off a miracle and confirmed a gap in class that, despite the English club's vast wealth, may take years to close.
Even before his decisive goal, he had hit the post and should have had a penalty. The Spanish papers on Thursday morning duly declared the return of Messi to his best.
That's what it must be like to be Lionel Messi, swinging from one extreme to the other in a matter of hours. Geniuses simply don't get time off. And for all the money he earns, the pressure must be enormous.
It's exactly 10 years since Messi made his debut for Barcelona's youth team as a 16-year-old. It was a team he spent little time in, making the step up to the first team the following season.
He has already achieved so much - three Champions League titles in the past seven years and nearly every scoring record in the book.
With the World Cup in Brazil looming large, this year could end up being the biggest of them all. Here is a chance not only to win football's greatest prize on his own continent but the opportunity to join that tiny, elite group of players - perhaps just Pele and Maradona - whose rare gifts echo through the years.