Al Ahly chairman Hassan Hamdi announces retirement
By Inas Mazhar & Ian Hughes
BBC Sport, Cairo
Last updated on .From the section Football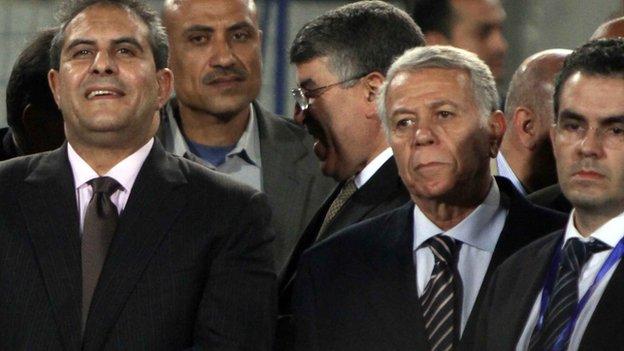 Al Ahly chairman Hassan Hamdi is to step down from his role ahead of a proposed new law which limits the tenure of sports club board members.
New regulations set to be passed by the Ministry of Sports will stop members from serving more than two consecutive terms (eight years) at a time.
Hamdi has already served for two terms so he has decided to step aside before the club's elections on 28 March.
A new board of directors will also be put in place at the Egyptian club.
The new regulations have been the subject of long public and media debates and dispute and it was proposed that club elections be postponed while the wrangling continued.
But on Tuesday Egypt's Minister for Youth and Sports announced that elections in all clubs would take place as scheduled.
That decision was taken after the International Olympic Committee gave the Egyptian National Olympic Committee its approval to carry on with the elections until the Egyptian government approves the new sports law.
Hamdi said: "The elections had been postponed and we had started working on a new regulation for the club. Suddenly, the ministry announced two days ago that the elections should be held as scheduled.
"I am sure the club members will select the best candidates to run the club in the next period. As for myself, I have decided to retire."
During Hamdi's reign as chairman Ahly won the African Champions League four times and were crowned Egyptian league champions five times.
"I am glad and proud to have served the club for more than 40 years as a player, administrator, board member and finally as chairman," added Hamdi, who was dubbed by the media as "the minister of defence" during his playing days in the 1960s.
"I am also proud of all the achievements the club has accomplished during those eight years on all levels; sports, culture and social.
"We, as a board, are proud that during our term the club has been named the club of the century, and the club has achieved the most international and regional championships."