Nicolas Anelka and FA decide not to appeal over five-game ban
Last updated on .From the section Football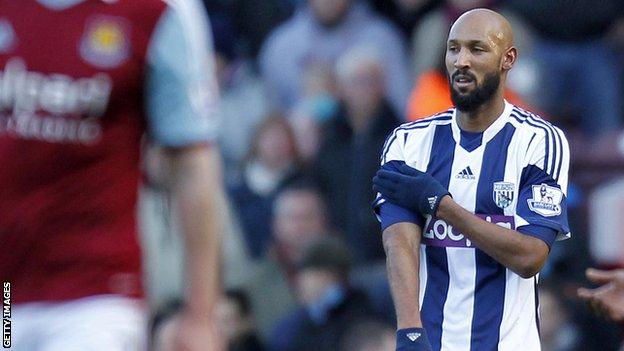 West Brom's Nicolas Anelka will serve his five-match ban after the Football Association and the striker both decided not to contest the decision.
The Frenchman, 34, had seven days to appeal but that time has now lapsed.
The FA had wanted a heavier sanction than an independent commission gave Anelka for his 'quenelle' gesture.
However, it said in a statement on Thursday: "We do not consider there is a real prospect of successfully appealing to extend the sanction."
The FA's director of football governance and regulation Darren Bailey added: "The grounds of appeal available to us are limited to legal challenges or to circumstances in which the sanction imposed is 'so unduly lenient as to be unreasonable'."
The governing body also confirmed that Anelka himself has decided not to contest the independent regulatory commission's punishment.
"With confirmation that both parties will not be appealing, Nicolas Anelka will serve out his suspension during this season - we also welcome his confirmation the gesture will not be repeated," Bailey continued.
The Frenchman made the sign, which was described as "an aggravated breach" of FA rules by the commission, during a 3-3 Premier League draw with West Ham on 28 December.
Anelka and his legal team had defended his actions to the FA's independent regulatory commission hearing, saying the controversial gesture was in support of his friend, the French comedian Dieudonne M'bala M'bala.
The commission's three-member panel, headed by a QC, said in its ruling that both charges against Anelka had been proven - that the gesture was abusive and/or indecent and/or insulting and/or improper, and that it included a reference to ethnic origin and/or race and/or religion or belief.
However, the panel added it did not believe Anelka had been deliberately anti-Semitic.