Leeds takeover decision within 10 days, says Football League
Last updated on .From the section Football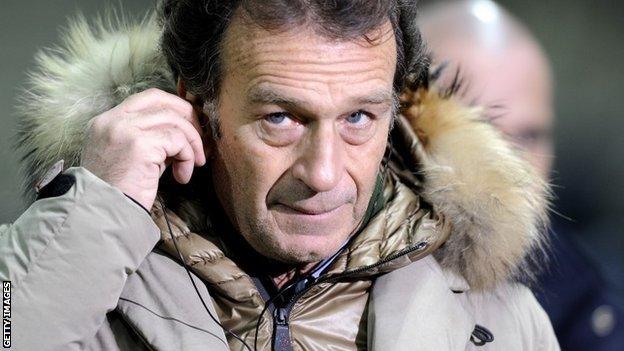 The Football League is hoping to make a decision on Massimo Cellino's takeover of Leeds United within 10 days.
Cellino, who owns Cagliari in Italy, has been funding Leeds for the last two months but is refusing to put any more money in until a decision is made.
The 57-year-old faces tax evasion charges in his native Italy on 18 March - allegations he denies.
A Football League spokesman said: "The board anticipates being able to reach a conclusion in the next 10 days."
Cellino, who heads Eleonora Sports, agreed the purchase of Leeds from Gulf Finance House Capital on 1 February but his bid has been the subject of intense scrutiny.
The spokesman continued: "The board of the Football League gave detailed consideration to the proposed takeover of Leeds United by Eleonora Sport Limited.
"The board discussed the eligibility of the proposed purchasers under the owners' and directors' test and examined evidence of both the source and sufficiency of funding.
"The majority of outstanding issues have now been resolved to the League's satisfaction and the board anticipates receiving further information on the remaining issues, from the representatives of Eleonora, in the next week."