Tottenham boss Tim Sherwood says Benfica coach 'lacks class'
Last updated on .From the section Football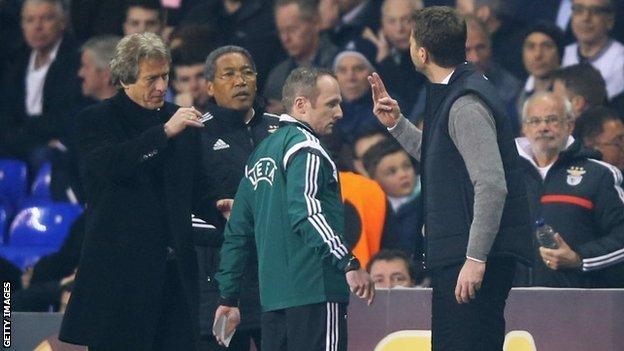 Tottenham manager Tim Sherwood accused Benfica coach Jorge Jesus of "lacking class" following the London side's 3-1 Europa League defeat.
Portuguese Jesus celebrated his side's third goal in front of the Spurs boss by raising three fingers in apparent reference to the score.
Sherwood confronted Jesus and the pair did not shake hands at full-time.
Sherwood said: "I thought his team were very good, got a lot of class. It's a pity he doesn't."
The result leaves Spurs struggling to qualify for the quarter-finals and caps a difficult few days for Sherwood, who has come under scrutiny for publicly criticising his players following a 4-0 thrashing by Chelsea.
Explaining his confrontation with Jesus, Sherwood added: "In the first two minutes, he was coming over to the fourth official saying I was stepping in his box.
"He doesn't mind himself, does he? Waving goodbye like that with three fingers? It lacks class. Why would anyone do that?"
Jesus claimed the three-fingered gesture referred to goalscorer Luisao, although the Brazilian wears number four, and said the two benches were perhaps too close together.
"In Portugal, we have more space apart and we can demonstrate ourselves in our own way," he said.
"When at some stage I invaded Tim Sherwood's personal space, he told me to go to mine. He did the same to me, but it was no more than that. It was quite pleasant in the end."
Sherwood, who replaced Andre Villas-Boas in December, was pleased with the desire and effort of his players ahead of the visit of Arsenal in the league on Sunday.
"We've got to see it over a consistent basis, so I've got no complaints about that," he said.
But he added that the loss to Benfica was a "blow".
"I've got no problem with the attitude or desire," he said. "It's just we have to hold our hands up and say they're a class above."