Cesare Prandelli: England have improved since Euro 2012
Last updated on .From the section World Cup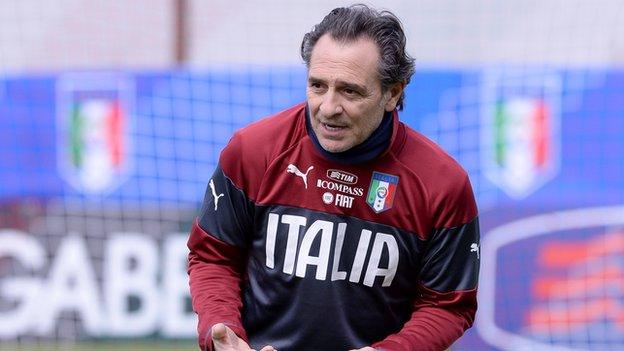 Italy coach Cesare Prandelli believes the current England team are an improvement on the side the Azzurri knocked out of Euro 2012.
Prandelli feels that Roy Hodgson's squad will provide a tougher test in the 2014 World Cup in Brazil.
"I think England have improved a lot," he said. "They have discovered new players, especially the wingers, and athletic players who run a lot."
England face the Euro 2012 runners-up in their opening World Cup match in Manaus on 14 June and Prandelli says he thinks the emergence of Liverpool's Raheem Sterling, 19, and Daniel Sturridge, 24, and Everton's Ross Barkley, 20, will prompt Hodgson to move away from the defensive tactics on display in Ukraine.
"Despite the fact we dominated that game, we weren't able to score - I'm sure this will be a totally different match to the one we played two years ago," he told BBC World Service's World Football programme.
"We'll find a different England, with different footballers, because like I said, in the last months they have been good and lucky enough to scout new and talented players."
Prandelli, 56, has a close friendship with Tottenham technical director Franco Baldini from their time together at Roma in 2004, and has been linked with the White Hart Lane manager's job, but denies any interest in replacing Tim Sherwood this summer.
"Baldini works for Tottenham so they say I might go there," he said. "Maybe in some years he'll work for a third division Italian team and they'll say I'll manage that side!"
Prandelli says he has already been offered a new contract by the Italian Football Federation (FIGC), and will take time out from the game if he opts not to extend his current deal, which expires at the end of the World Cup.
"If we find an agreement with the FIGC we'll go on together, otherwise I'll take a break - I won't strike an agreement with any club," he said.
"The extraordinary thing is that, for the first time, the FIGC is offering me a contract renewal regardless of what happens at the World Cup.
"This has never happened before and maybe it's a sign that times are changing for the better."