Nicolas Anelka: Kick It Out calls on FA to impose greater sanctions
Last updated on .From the section West Brom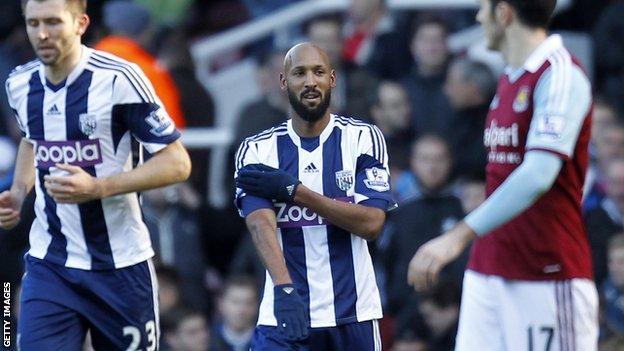 Kick It Out wants the Football Association to double its minimum ban for racist offences to 10 matches following the Nicolas Anelka ruling.
Anti-racism group Kick It Out has urged football's governing body to provide "a much more meaningful deterrent".
It also wants West Brom to apologise for the striker's actions.
The Frenchman made the sign, described as "an aggravated breach" of FA anti-racism rules by the independent commission, during a 3-3 Premier League draw with West Ham on 28 December.
However, the panel added it did not believe Anelka, who has played for Arsenal, Real Madrid, Chelsea, Manchester City and Liverpool in his career, had been deliberately anti-Semitic.
Kick It Out claimed it was "beyond feasibility" that Anelka did not know the 'quenelle' salute had anti-Semitic connotations and said people would not understand why the FA had not appealed against the leniency of the sentence.
"The FA provided a hard body of evidence, complemented by in-depth research into the 'quenelle' by an appointed expert, to justify a stronger ban than its five-match minimum," Kick It Out's statement read.
"People will be perplexed as to why it has not been challenged considering they were clearly seeking a sanction which was quite different."
In addition to calling on the FA to bring its minimum punishment into line with Uefa's 10-game ban, Kick It Out criticised West Brom for its failure to apologise for Anelka's actions.
It argued that the club should have "exercised its leadership as a community institution to apologise for the offence caused and deal with the matter in accordance with its disciplinary procedures".