Chris Hughton disappointed to be only black manager
Last updated on .From the section Football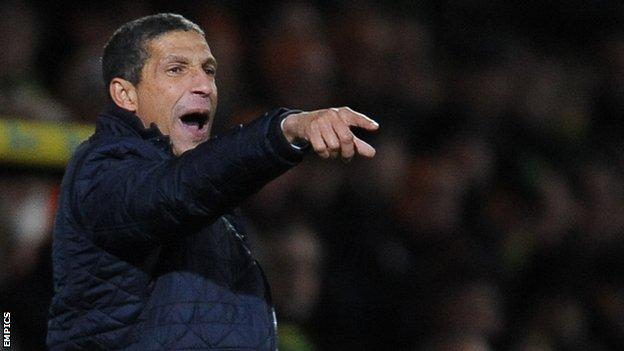 Norwich City boss Chris Hughton has said he is concerned by the "massive dearth" of black managers in England.
He told BBC Radio Norfolk: "I'm really disappointed by that fact. There's no doubt we need to do more.
"The percentages of black and ethnic players compared to those in management is a massive gap."
Hughton added: "We have to make sure we work hard enough to resolve that."
There were five black managers in work across the Premier League, Football League and Conference Premier at the start of the season, but the departures of Paul Ince from Blackpool,Chris Kiwomya from Notts County,Edgar Davids from Barnet and Powell's exit have decreased that number to just Hughton.
The Canaries boss has been in charge at Carrow Road since the summer of 2012, but is under pressure to pull the Norfolk club away from the Premier League relegation zone.
"I've seen big changes in the number of black and ethnic coaches involved at grassroots and academy level," he said.
"But of course there is a massive dearth at management level. We all have a responsibility to solve that, to determine where the problem is and where we can improve and set about improving it."
An English equivalent of the American "Rooney Rule" has been proposed, with the aim of increasing the number of qualified candidates from ethnic minority backgrounds interviewed for posts.
And some believe encouraging more black owners and executives at clubs could help.
"I don't think it's a question of ownership," said Hughton.
"When we see something as a problem, we have to try and solve it and the best way is generally through education."