Rangers: Dave King seeks Ibrox collateral for season tickets

By Alasdair Lamont
Senior football reporter, BBC Scotland
Last updated on .From the section Rangers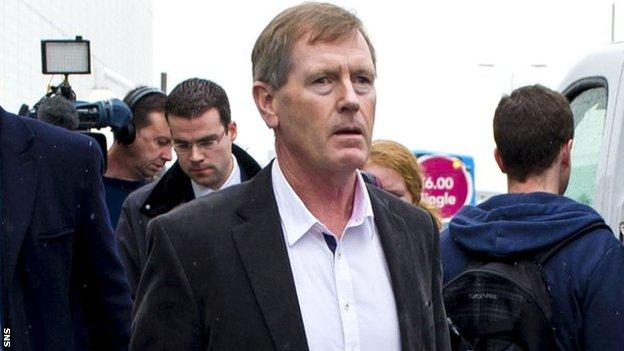 Former Rangers director Dave King is to spearhead a plan for Ibrox Stadium to be signed over to fans as collateral in exchange for season ticket money.
The proposal also covers the club's training ground and is endorsed by a coalition of supporters' groups.
The move is a reaction to what King believes is a lack of financial transparency from those running the League One champions.
And fans plan a show of support for King at Saturday's match at Ibrox.
King, who invested £20m in the club during the Sir David Murray era, spent Wednesday and Thursday in London having talks with investors over his plans for a new share issue.
He told representatives of various supporters' associations that those discussions went well, with the majority of investors open to a new share issue. Among the investor groups King met was Laxey Partners, currently the biggest shareholder in Rangers and not thought to be keen on the plan.
Rangers secured their second successive title on Wednesday but have denied that they are facing a second administration despite posting a £14.4m loss last year and recently reaching a £1.5m loan arrangement with investors Sandy Easdale and Laxey.
That agreement hands Easdale and Laxey security over the Albion car park and Edmiston House facilities near Ibrox, and Laxey a guaranteed £150,000 profit on the deal, although the club say they are now examining a counter-offer from shareholder George Letham.
A statement from the Union of Fans said: "We believe that if the board is happy to hand over security for the Albion car park and Edmiston House, in return for a high interest loan, then they should be happy to secure Ibrox and Auchenhowie (training ground) for the supporters.
"The board has already publicly stated that it has no plans to use these assets to raise finance and we therefore see no reason why it would not comply with this request."
Team manager Ally McCoist is adopting a neutral stance as others manoeuvre for control of the club's destiny.
"I won't be privy to any of the meetings, but I just hope that we can all move forward afterwards," he said.
"Like any Rangers fan, I would be very hopeful the outcome would be positive and then we will see what happens after that.
"Both the board and Dave have said it is best that I concentrate on the football.
"A few months ago, it was perhaps part of my job to get involved, but now that there is a proper board in place, and Graham Wallace there as chief executive, that side of things will be left to them."
The Union of Fans said it would distribute 30,000 blue cards ahead of the visit by Dunfermline Athletic calling for the board to accept King's plan for fresh share capital.
It follows a similar, red-card display carried out by another fans' group, the Sons of Struth, earlier in the season to show displeasure at the board.
Rangers fans will be asked to welcome King's involvement by displaying the cards on the 18th and 72nd minutes - a reference to the club's foundation in 1872.
Union of Fans statement added: "It is clear that Dave King shares the concerns of supporters with regard to the desperate need for investment in the club.
"He has indicated that he is willing to provide that investment by taking a lead role in a fan-based initiative and we are fully supportive of the terms on which he wishes to do so.
"We are extremely happy with what we see as a clear path forward to return Rangers to health and put the club on a secure footing, where it can challenge for the league and in Europe in the years to come.
"Without the investment being offered by Dave King and others, and with the current board planning to slash costs across the club, which could even delay our return to the top league, we fear that Rangers could be left in the wilderness for years to come."
Glasgow-born King joined the Ibrox board in 2000 and was the club's second biggest shareholder when he opposed the company voluntary arrangement that failed to bring Rangers out of administration in 2012.