Robert Huth: Stoke defender out for season after knee operation
Last updated on .From the section Stoke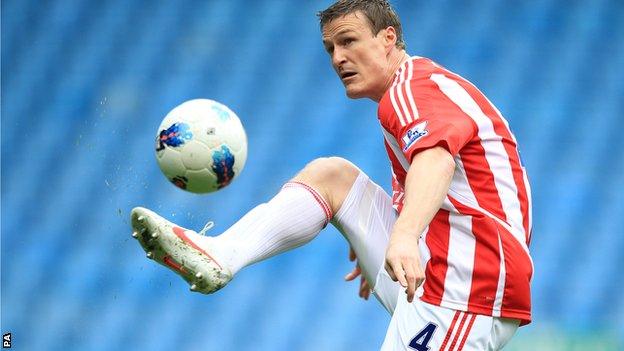 Stoke defender Robert Huth will miss the rest of the season following an operation on his knee.
The German, 29, has not played a first-team game since November.
Huth made a comeback following an earlier operation in a behind-closed-doors friendly on 25 February but his knee suffered an adverse reaction.
"Robert had an operation last night and unfortunately he is going to miss the end of the season," said Stoke boss Mark Hughes.
"We tried to get him back and he has been very close on a number of occasions.
"It is just that there is an issue in the knee that is causing it to flare up and we now have a better understanding of what is going on.
"Hopefully he will be fit and well to go for the beginning of next season."
Huth, who has made 19 appearances for Germany, joined Stoke from Middlesbrough in 2009 after previously playing for Chelsea.