Adebayo Akinfenwa: Peter Taylor 'lifted black cloud' at Gillingham
Last updated on .From the section Football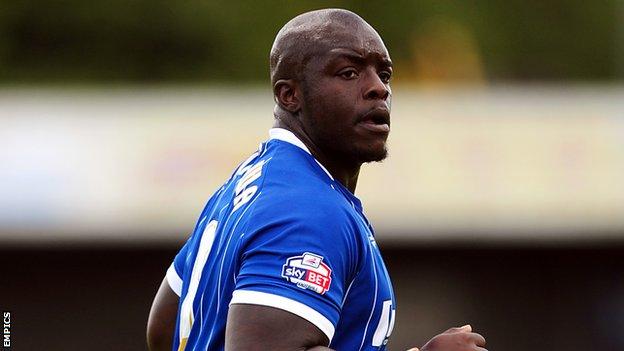 Gillingham striker Adebayo Akinfenwa says Peter Taylor lifted a "black cloud" at the club when he replaced Martin Allen as manager in October.
"I didn't get much time to work under Martin. It was eerie for me coming into a team that had won the League Two title," Akinfenwa told BBC Radio Kent.
"For whatever reason there was a black cloud over the place for some reason which was lifted when Peter came in."
Taylor initially took charge on an interim basis but subsequently signed a deal until the end of the campaign.
The former England Under-21 boss has won 11 of his 25 league games in charge of the Kent club to steer the Gills to mid-table, eight points above the relegation zone.
Akinfenwa, 31, added: "I felt it [the change] was needed.
"He has come and brought a stability that was needed more than anything else.
"The ability was there. We are not that much different under Peter Taylor, in a sense of personnel, than under Martin.
"The gaffer, as meticulous as he is, does allow a little freedom to express yourself.
"In the time I had under Martin Allen it wasn't like that because of whatever was going on behind the scenes."
Meanwhile Akinfenwa says he has already been sounded out by other clubs for next season, but he is open to staying at Priestfield.
The former Swansea and Northampton man has scored nine goals in 26 league appearances since re-joining the club last summer on a one-year deal.
"The nice thing for me is I am getting telephone calls for next season," he said.
"It is always nice to be wanted and to feel wanted. As for where I am going to be, I don't know.
"I know there are options so I guess I can be a bit more relaxed.
"I am happy here at Gillingham. I like the fans, it is local to my house and I love the team.
"I am cool being here but then I am a great believer in what is meant to be will be.
"If I am here next season then I will give my all like always. If not, then I've had a great time here."