Brendan Rodgers: No Champions League will hurt Man Utd
Last updated on .From the section Football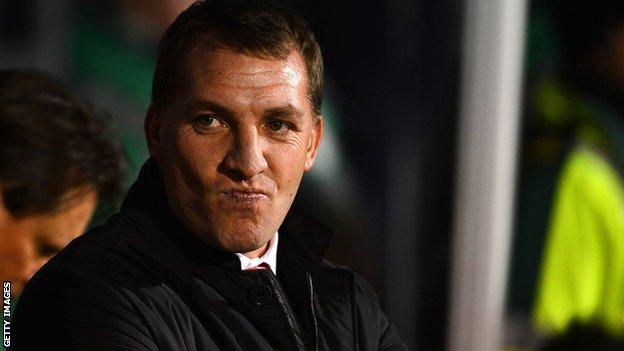 Liverpool manager Brendan Rodgers has warned Manchester United that missing out on the Champions League could see them fail to attract top players.
United start Sunday's home game against second-placed Liverpool 11 points behind the visitors and nine adrift of Manchester City in fourth.
"The best players want to play in the best competition," said Rodgers.
"Any club will suffer the same when they're not in there. It will hurt you, but they (United) will know that."
United are used to regularly performing in Europe's elite club competition but this season risk missing out for the first time since the 1995-1996 campaign, when they played in the Uefa Cup.
Rodgers, 41, added: "It's not simple to get back in. You think every year is the next year.
"I was reading a Jan Molby (former Liverpool and Denmark midfielder) interview about the great Liverpool teams of the past. He said when they missed out one year became two and then all of a sudden it was 20 years since they last won the title."
United manager David Moyes is expected to have a significant transfer budget after a difficult first season at Old Trafford, but Rodgers spoke of the experience he had last summer, when key targets turned down a move to Anfield in favour of clubs competing in the Champions League.
Armenia international Henrikh Mkhitaryan opted to join Bundesliga side Borussia Dortmund, while Brazil midfielder Willian signed for Premier League rivals Chelsea.
"We weren't in the Champions League and found it difficult," said Northern Irishman Rodgers.
"In order to get in some of the types of players we want, that's where we need to be and we're trying to be.
"We have a long way to go but have shown great potential to be in there. I believe if we can get to that level then it gives us a massive advantage as a club."
Liverpool won the Champions League under Rafael Benitez in 2005 and made the final two years later, only to lose to AC Milan - who they had defeated to claim the trophy in Istanbul.
The club last competed in the Champions League during the season of 2009-2010, when they were eliminated at the group stage.
Meanwhile, United striker Wayne Rooney identified Liverpool's "fantastic" front two of Luis Suarez and Daniel Sturridge as players the Manchester club will have to watch on Sunday.
"It is good to see Sturridge doing well because he has never really had a chance at his previous clubs," he said.
"Suarez, for me, is up there with Lionel Messi and Cristiano Ronaldo as one of the best players in the world. He has been that good and the two of them together have been in great form this season."