Tottenham v Arsenal: Sherwood wants 'blood and thunder' derby
Last updated on .From the section Football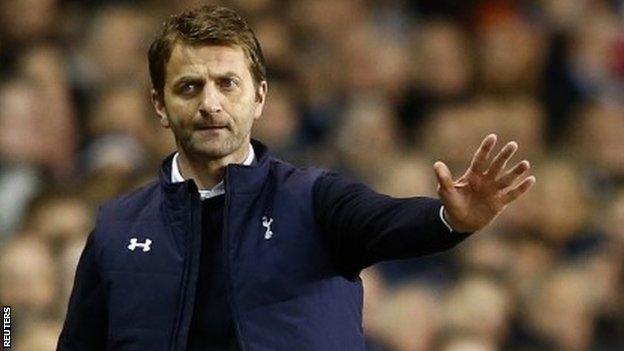 Tottenham manager Tim Sherwood wants to see a "blood and thunder" encounter when his side host north London rivals Arsenal on Sunday.
Fifth-placed Spurs are six points behind fourth-placed Arsenal, who are seven points behind Premier League leaders Chelsea with two games in hand.
"I don't think there is much blood and thunder these days - I want it to be more of that," said Sherwood.
"I think that gives us the edge. We are more functional than they are."
The 45-year-old added: "But if they get into their stride we know they can be very dangerous, so we need to knock them off their stride."
Sherwood, who succeeded Andre Villas-Boas midway through the season, has already sampled one derby as a manager but was on the losing side as the Gunners knocked his side out of the FA Cup in the third round.
Tottenham will be looking to bounce back from their 4-0 defeat against Chelsea last weekend.
Following that heavy defeat, Sherwood accused his players of "lacking guts and character", describing his side's second-half display as a capitulation.
In their next match, Spurs suffered another damaging defeat as they were beaten 3-1 at home by Benfica in the Europa League, but the manager is certain his team will react positively.
"It is a real dark spell for us at the moment," Sherwood said. "These two games we've taken heavy defeats and it is a great opportunity to bounce back.
"These are great games, big games. You always wanted to be part of it as a player.
"You always wanted to play Arsenal every week, not that the results were that great but the occasion was fantastic. I am relishing it.
"It is my first time as a manager at the Lane, to be standing opposite Arsene Wenger, and hopefully I will get one over on them."
While Sherwood wants to "get one over" on Wenger, the Arsenal manager has shown his support for his opposite number, who has seen a string of high-profile managers linked to his job.
However, the 64-year-old Frenchman, who has been in charge at Arsenal since 1996, wants to see Sherwood given time to do his job at White Hart Lane.
"I don't know Sherwood as a coach," said Wenger. "But I knew him as a player because I am a long time in this job.
"I like the fact that he has learned his job and gets his chance. In England you rightly complain that young managers don't get a chance. When you get one you have to support him."