Jose Mourinho criticises referee Chris Foy after Chelsea loss
Last updated on .From the section Football
Jose Mourinho gave a scathing verdict on referee Chris Foy after the Chelsea boss and two of his players were sent off in a 1-0 loss at Aston Villa.
Mourinho was sent to the stands in stoppage-time following the dismissals of midfielders Willian and Ramires.
"We must be very, very unlucky to have another refereeing performance like this one," said Mourinho.
"This is not about one mistake from a referee. This is about a performance from minute one to minute 94."
The game's biggest flash-point occurred in the closing stages as Ramires was shown a straight red card for a two-footed tackle on Villa's Karim El Ahmadi.
Mourinho, who was dismissed in the fracas that followed the incident, claimed he was trying to alert Foy to a push by Villa striker Gabriel Agbonlahor on Ramires.
Agbonlahor had already been substituted but rose from the bench to confront Ramires following his challenge.
"I don't know why I was sent off," Mourinho told BBC Radio 5 live. "I asked, but the referee refused to speak to me.
"Gabriel Agbonlahor was on the bench, he jumped onto the pitch, he was aggressive towards Ramires. Then everyone jumps onto the pitch: me, Paul Lambert and my assistants, lots of people there.
"There are no statues in a football match, so if I was sent off, everyone should have been sent off. This is not about convention, this is about common sense."
In the post-match press conference, Mourinho denied reports that he and Chelsea captain John Terry had tried to force their way into Foy's dressing room.
But he did admit to attempting to speak to Foy again after the match. "In the dressing rooms I tried to ask politely, can you give me five seconds? And he refused," said the Portuguese.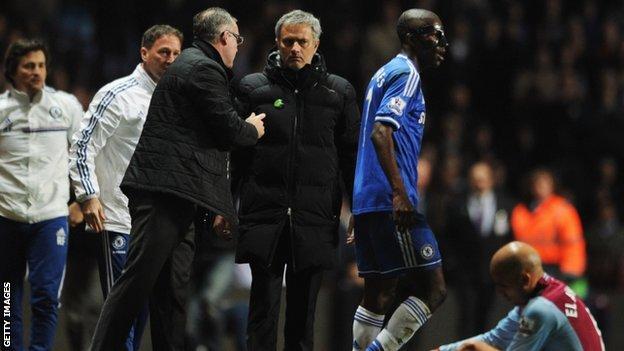 The result, courtesy of Fabian Delph's 82nd minute goal, dealt a blow to Chelsea's title chances as Manchester City moved six points behind the league leaders with three games in hand.
Aston Villa boss Paul Lambert, whose side moved up to 10th, laughed off Mourinho's comments about Foy.
"I know what Jose's doing - he's been around the block. If you go on about decisions it deflects from the performance," said Lambert.
"Of course Jose thinks we didn't deserve to win. His team is trying to win the league and that's his problem. How can this team, a Villa team of young kids beat a team that's vying for everything going?"