Tranmere Rovers takeover close, says chairman Peter Johnson
Last updated on .From the section Football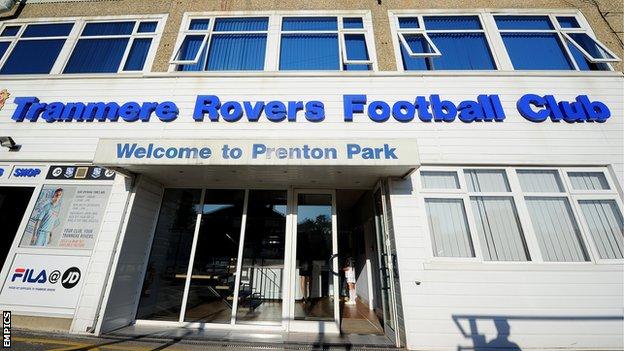 Tranmere chairman Peter Johnson believes a deal to sell the club could happen within the next couple of weeks.
Rovers have been in conversation with a number of potential owners this season.
Asked if there is a deal on offer, Johnson told BBC Late Kick Off North West: "I think so, but there's many a slip twixt cup and lip."
He added: "I've had to find someone that loves the club and the fans can trust him and I think I've done that now.
"You never know until the ink is dry. We expect to make an announcement fairly soon - in a couple of weeks I think."
Johnson was asked if the potential investor has enough capital to take the club forward: "Yes, I believe so," he said.
"[He's] a bit younger than I am, they've got the money and I'm satisfied that the fans will be able to trust him."
The 74-year-old has been involved with Tranmere since 1987 and has appealed for fresh investment in the club for several years.
The Prenton Park side are two points above the relegation places in League One and have suspended manager Ronnie Moore pending the conclusion of an investigation into a potential breach of betting rules.
The Tranmere Rovers Trust - a supporters' group - is the third-largest shareholder in the club and has previously spoken about raising £500,000 to fund a bid.
"I think they have got a part to play," Johnson said. "I'm not sure they can take it over as it does need money and, unfortunately, it needs a lot of money.
"We're one of the poorer clubs as our wage bill is quite low compared to both our division and the division below."