Warnings sound for South Africa
By Ian Hughes & Pieter Stroink van Eizenga
BBC Sport
Last updated on .From the section Football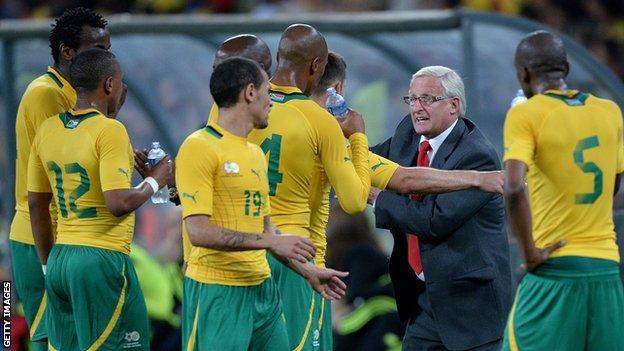 South African football is on a downward slide that will be difficult to arrest if the country does not address its failings across all levels of the sport.
That is the warning coming from experienced and respected voices within the game in South Africa - and the message is also echoed by some of the country's brightest hopes on the pitch.
South Africa will not be at this year's World Cup finals in Brazil, whose national team reinforced the inadequacies of the current Bafana Bafana side when they thrashed them 5-0 in a friendly in Johannesburg on 5 March.
That defeat felt like a truer representation of where Gordon Igesund's team are at the moment, rather than their 1-0 victory over reigning world champions Spain in a friendly in November - a victory that was seemingly no more than an anomaly.
In the last decade there have been no signs of a return to the form that secured South Africa the 1996 Africa Cup of Nations, a runners-up finish in 1998 and third place in 2000.
Since then they reached the quarter-finals only twice - and it was viewed as a massive when disappointment when they went out at that stage as hosts of last year's edition - and failed to qualify at all in 2010 and 2012.
Add to that a single World Cup finals appearance since 2002 - as hosts in 2010 - and the statistics make for grim reading.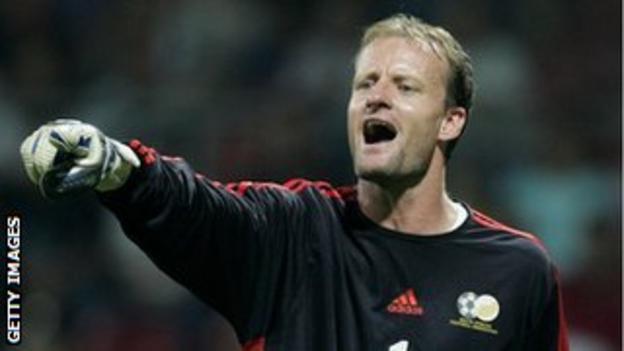 Former Bafana Bafana goalkeeper Hans Vonk believes the underlying reasons run deep.
"Back in 1998 South Africa had a great team but it wasn't part of a bigger plan," said Vonk.
"There is a lack of quality coaches in South Africa, so a lot of talented young players fail to be recognised and they don't have enough guidance to reach top level.
"All in all, the structure is not there. In the top flight, the Premier League, there are good coaches but there is nothing underneath the surface," added Vonk, who was capped 43 times by South Africa between 1997 and 2005.
"If you compare with Brazil, for instance, they seem to be able to develop good street footballers from favelas but South Africa does not. You have to ask yourself why it isn't possible for young South Africans to enter into national youth programs.
"Professional football at the highest level doesn't guarantee an inflow of youngsters up to the highest level. In South Africa they have tried to import knowledge from abroad but they harbour suspicions against input from foreign coaches."
It is a view that is shared by former Ajax Cape Town coach Foppe de Haan, who is also worried about the future of the South African Premier League.
"The rejuvenation of the teams in the competition is not there; the average age of players in the Premier Soccer League is really high and clubs tend to make use of old, physically strong footballers in the competition," he said.
"While rugby is part of South African schools, football is most often taught by committed teachers with no football background. South Africa Football Association President Danny Jordaan already mentioned a youth league would increase the quality at senior level in the long run, and I can only back this up.
"I've tried to teach the players to play modern football instead of classical kick and rush and in the end it paid off, which proves South African footballers do have the capabilities to play modern football.
"If you want to improve the level, you need quality coaches; therefore you need to school them as well."
The problem with coaching at grass roots level and the fact that the current crop of top-flight players and Bafana Bafana internationals aren't considered up to the required standard means the situation may well feel bleak to fans in South Africa.
But Ajax and Bafana Bafana midfielder Thulani Serero is optimistic that the talent is coming through and feels it simply needs to be harnessed and nurtured.
"They definitely should create more programs with showcases and tournaments that could be held in schools. I've seen players out there that are good enough."
However, Serero's attitude towards outside influences, "we don't need foreign involvement and instead should rely on our own vision and thoughts on football", appears to back up Vonk's claim that the football mentality in South Africa is an insular one.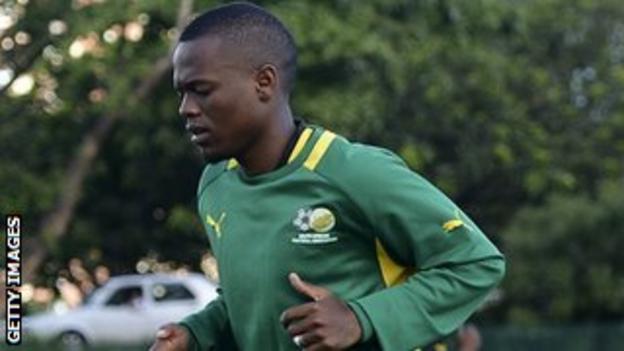 It is an opinion that strikes an odd chord given Serero plays his football in Netherlands, and also when you look at South Africa's fall from being one of the continent's heavyweights to the 12th best in Africa, according to Fifa's rankings for March.
While South Africa's football philosophy falters, Serrero and another of South Africa's brightest talents, Kamohelo Mokotjo, are thriving with Dutch sides.
And PEC Zwolle defensive midfielder Mokotjo, who is currently topping the polls for the Eredivisie Player of the Year award, hinted that the environment in South Africa is not beneficial for players learning their craft.
"Back in the day South African footballers were really humble and knew their tasks. On the pitch you wanted to play for each other; there was cohesion," said the 22-year-old.
"Now there is no game plan and no vision. All the lines are now working separately from each other."
Yet Mokotjo is hopeful that attitudes will change and South Africa will find their way back to right path.
"Sticking together is the best remedy for now. We have a new generation of football players and it's about how you put all the pieces of the puzzle together. That's going to make a difference," he said.
It is a puzzle that may take a long time to solve.