World Cup 2014: Ghana's budget halved from 2010 finals
Last updated on .From the section Football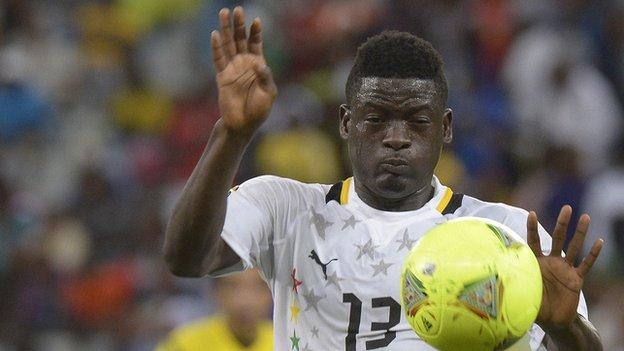 Ghana will go into the World Cup finals in Brazil with less than half the budget they had for the tournament in South Africa four years ago.
The country's government has approved an amount of US$9.6m for the campaign - a total that would be paid if the Black Stars make it all the way to the final.
It is massively reduced figure from a proposed $22m, largely because of a huge public outcry about the cost.
Ghana had a budget of US$19m approved for the last edition of the World Cup.
This time around, Ghana will spend $4m on preparations and the first three group games, with another $5.6m available to pay expenses and players' bonuses should the team make it further in the competition.
Sports Minister Elvis Afriyie Ankrah said the allocation means the players, who have been seeking an increase in appearance fees and bonuses, will earn the same as they did during Ghana's run to the quarter-finals in 2010.
"Various numbers came up but those were proposals from the players. When you go into negotiations you put a figure down but in this case the government, which is the paymaster, determines what has to be paid", Afriyie-Ankrah said.
"Based on our discussions, the government insists that we should pay the same bonuses as the 2010 World Cup in South Africa. For the record the 2010 figure was $75,000 because we are all going through challenges - the President and the rest of us we have cut out our salaries by 10%.
Afriyie Ankrah added that he is confident the players will understand and accept the terms put together by government.
"I'm sure in the coming hours or days we will hear from the players themselves so I don't want to pre-empt what they will say but all I can say is that they are also Ghanaians.
"The players are patriotic and understand the situation as reasonable and rational people, especially when you engage them and explain things to them", he said. added.