Wales' Terry Medwin and Colin Baker's 1958 World Cup memories
By Dafydd Pritchard
BBC Wales Sport
Last updated on .From the section Welsh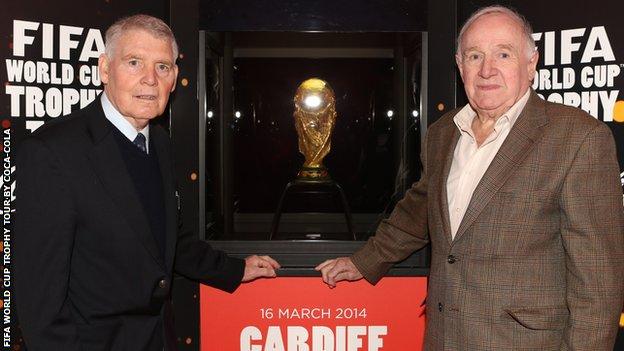 As a crowd gathers around a gleaming trophy in Cardiff, you could be forgiven for expecting to see Gareth Bale or Aaron Ramsey among the queues.
Both players are likely to finish their flourishing club careers with bulging trophy cabinets but, being Welsh, they might want to take any opportunity they can to lay their eyes on this coveted cup.
That's because the piece of silverware in question is the World Cup, the prize for winners of a competition no Welsh side has reached since 1958.
A barren 56 years have not dampened Welsh enthusiasm for the competition, as demonstrated by the 6,000 or so supporters who crammed into the Cardiff venue to catch a glimpse of the famous trophy.
They are also hoping to see two members of the Wales side who qualified for the 1958 World Cup, Colin Baker and Terry Medwin.
Baker and Medwin have been invited as guests for the Cardiff leg of the World Cup trophy's global tour ahead of this summer's tournament in Brazil.
More than half a century may have passed since their historic appearance at the 1958 World Cup in Sweden, but the pride - and the pain - is as vivid as ever.
Welsh heartbreak at the 1958 World Cup
"It was a long time ago, and it was only the one time we got to the World Cup finals, but you'll never forget it," says Medwin.
"It was a great experience playing for Wales when I first got my cap but even better when we qualified for the World Cup."
A skilful, prolific winger who had joined Tottenham from Swansea two years earlier, Medwin travelled to Sweden as one of Wales's star players.
It was a squad rich in talent and pedigree, also featuring Medwin's Spurs team-mate Cliff Jones, the legendary Juventus forward John Charles and the man known as the 'Golden Boy', Swansea's Ivor Allchurch.
Baker had yet to establish himself like his illustrious colleagues but the midfielder, who spent his entire career with Cardiff City, chose quite an occasion to win his first cap.
"I managed to make my debut in the World Cup against Mexico," he recalls.
Having qualified for the World Cup thanks to a play-off victory over Israel, Wales had already left their mark on the tournament by the time Baker made his debut.
John Charles's goal earned them an unexpected point in their opening group game against a Hungarian side who had finished as runners-up in 1954.
A late equaliser denied Wales victory against Mexico but, following a goalless draw with hosts Sweden - who went on to reach the final - Wales secured a quarter-final place after a 2-1 play-off win against the much-fancied Hungarians, having drawn 1-1 against the same opponents in their opening game of Group 3.
Medwin scored the winner against Hungary, making him the last Welshman to score in a World Cup, but victory came at a price.
"We had a play-off against Hungary and that's where Big John (Charles) got injured," says Medwin.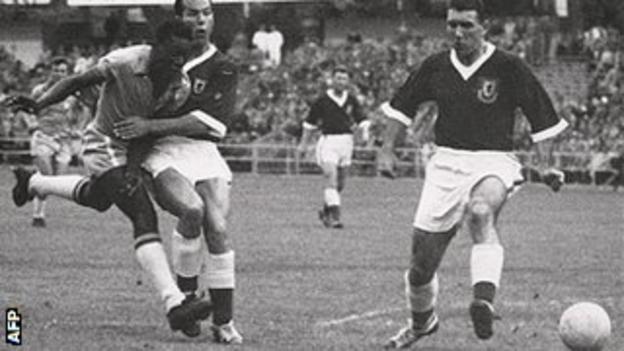 It is a tale so ingrained in their memories that Medwin and Baker often finish each other's sentences as they recall the details.
"That's right, Big John got injured," Baker interjects.
"Looking back at it all, we were so near to qualifying (for the semi-finals)."
Their quarter-final exit is now a part of Welsh football folklore, how an injury to Charles denied Wales their talisman against a lavishly talented Brazilian side.
Wales have suffered qualifying heartache since then - such as Paul Bodin's penalty miss in 1993 - but this was a crushing blow dealt at the agonising stage of the tournament itself.
A nation has been left to wonder what might have been for 56 years, and there is one question which nags more than any other.
"Had he (Charles) been fit enough to play, I'm not saying we would have won, but he was such a great player," says Medwin.
"Sadly, he had a few tears and he couldn't play, and then Pele got his first goal for Brazil in the World Cup."
Pele's strike which sealed Brazil's 1-0 quarter-final win over Wales was a watershed moment. The 17-year-old then scored a hat-trick in their semi-final victory against France before netting two in the final triumph over Sweden.
He went on to become arguably football's greatest ever player, while Wales were left to dwell on the lingering hypotheticals.
"When you look at it, we played the two finalists, Sweden and Brazil," Baker says, pausing - for what seems the umpteenth time since 1958 - to imagine how Charles's presence might have changed history.
Emulating the class of 1958
Welsh football has been inspired and daunted in equal measure by the class of 1958, determined to end the drought but weighed down by the expectation to do so.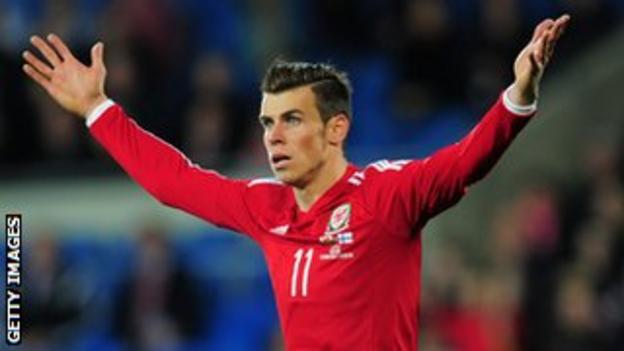 There is renewed hope the current crop could scratch the 56-year itch, with the likes of Bale and Ramsey spearheading Chris Coleman's promising young squad.
A relatively favourable qualifying group for Euro 2016 has also fanned the flames of optimism, and two veterans of the 1958 World Cup have their fingers crossed.
"We're always the underdogs but there were so many good teams around at the time we got through," says Medwin.
"Let's hope it's going to be quicker now (that Wales qualify). It's been a long time since we were there."
Baker agrees: "We've got to do it and qualify, get the crowds back. We're all behind them."