World Cup 2014: Why a fully-fit Fred holds the key for Brazil
By Tim Vickery
South American football writer
Last updated on .From the section Football209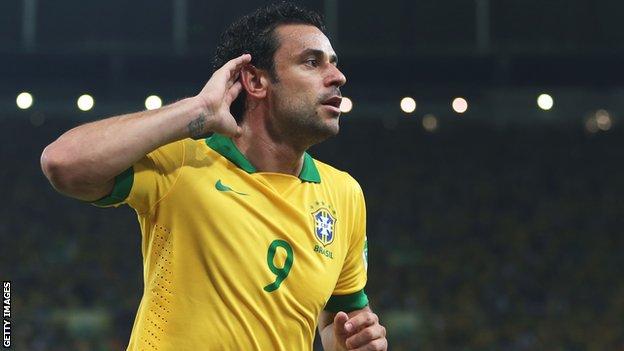 Ronaldo. Romario. Pele. Serginho. Careca.
Brazilian centre-forwards have lit up World Cups down the years, but this summer's chosen man is currently playing to crowds of under 1,000.
Brazil coach Luiz Felipe Scolari's preferred number nine is Fred, who is striving to play his way back to form and fitness in less-than-glamorous surroundings.
Last year, he was the hero of the Confederations Cup. Soon afterwards the 30-year-old suffered a long-term injury, from which he is currently making a comeback with Fluminense of Rio, playing in the local state championship sometimes in front of three-figure crowds.
Scolari will have been pleased to see Fred rifle home his third goal of the year in a derby game in the Maracana against Vasco da Gama on Sunday.
To many though, centre-forward is the problem position for Brazil as they build towards the World Cup. And there is no denying that there have been many times in the past when Brazil had more strength in depth in the position. But it is a problem that looks worse from outside Brazil than it does from inside.
Neither Fred nor his reserve Jo are playing in Europe, while the striker who turned his back on the country, Diego Costa, was last week banging in the goals for Atletico Madrid in the Champions League.
Fred left Lyon to join Fluminense five years ago. Jo, of course, spent time with Manchester City and Everton, where he is probably best remembered for launching a unilateral attempt to introduce the Christmas break to the calendar of the English game.
Since they are outside the top leagues, it is assumed these players cannot possibly be good enough to spearhead the Brazil attack.
But the problem is not primarily one of talent. Jo, for example, was something of a child star. His time in England coincided with what youth development specialists in Brazil describe as footballers' late adolescence; he had more money than he knew what to do with, the delights of the adult world were on offer and he wanted to make up for all the youthful escapades he had missed while concentrating on his football.
This process persisted when he went back to Brazil; with Internacional of Porto Alegre he missed a flight to an away game as a consequence of over-vigorously celebrating his birthday. His career only picked up again when he joined Atletico Mineiro, where he was top scorer last year as the club won the Copa Libertadores, South America's Champions League.
In the case of Fred, his footballing ability has never been in doubt. A wonderful striker of the ball, dangerous in the air, skilful and intelligent, he was a consistent performer in his three-and-a-half seasons with Lyon, and is an idol at Fluminense.
While he was still in France a move to a European giant was his for the taking. But he was never entirely happy with the squad rotation system. And there was another doubt; was he really prepared to make the sacrifices necessary to sustain a top-level career?
The Rio press has sometimes followed him around trying to find the size of his bar bill. In a previous spell in charge of Fluminense, his current coach Renato Gaucho commented that Fred was lacking in dedication.
The World Cup, though, can do wonders when it comes to focusing the mind. On Saturday, Fred was on the front cover of the Rio version of Brazil's sports daily "Lance!". In a suit and tie, with an angelic expression, he is promising a goal (which he delivered) against Vasco to celebrate a new phase in his life. According to the cover, the 2014 model Fred is "religious and reserved" and "dedicated to training sessions."
A fully fit and in-form Fred is vital to Brazil's World Cup plans. One of the first changes made by Scolari when he took charge of the national team was to reinstate the figure of the target man centre-forward. In "Big Phil's" first game back, against England at Wembley last February, 2010 World Cup striker Luis Fabiano started.

Fred came on at half-time, scored a fine goal and stayed in. He was on target again against Italy, Russia, and once more against England, this time in the Maracana. Then, after a slow start, the goals kept flowing during the Confederations Cup - two against Italy, one versus Uruguay in the semi final, two against Spain in the decider.
But it is not only goals that Scolari wants from his centre-forward. Equally important is his role in making life easier for Brazil's most potent attacking weapon, Neymar.
Fred is expected to tie up the centre-backs and create space for Neymar's forward bursts, and also combine with him with his back to goal. In this sense Scolari must have been very happy with the way his attack worked in the recent 5-0 win away to South Africa, when Neymar scored a hat-trick.
For the first, Fred chested down for Paulinho to slip the Barcelona player through on goal. For the second, Fred hooked a clever pass to put Neymar behind the defensive line. And the third came from a nod across the face by Jo, who had come on to replace Fred.
All three of Neymar's goals were team efforts involving the target man - proof of one of football's golden rules, that the stars shine when the collective balance of the team is correct.
Fred may not be playing in the Champions League, but all the same he is an important part of Brazil's collective balance. And for all Brazil's centre-forward's newly found religiosity, Scolari will hope to see plenty of Fred's old style irreverence in the World Cup.
In the Confederations Cup final, Fred gave Brazil an early lead when he hooked home from a prone position. "I've done so many wonderful things lying down," he said after the game, "All that was missing was a goal."
With his sneaking regard for the maverick, Scolari loved it - and would love even more to hear some of the same this June and July.
Send your questions on South American football to vickerycolumn@hotmail.com, and I'll pick out a couple for next week.
From last week's postbag:
How can Argentina leave Tevez out of the World Cup squad? He's a better player than Sergio Aguero, Gonzalo Higuain, and Angel di Maria and every bit as good as Lionel Messi. He won the top titles in every country that he played in and will now do so in Italy. Furthermore he's not injury prone. He can take a belt and just get up and go on.
Micheal Geraghty
I wonder if this was written by Tevez himself, since there are suspicions that he might feel this way! His international record is in fact extremely poor - nowhere near as good as Aguero's, let alone Messi's. And while Messi and Aguero combine beautifully, Messi and Tevez have never enjoyed any kind of chemistry.
With their attacking strength in depth, Argentina can afford to leave him out. The last straw was probably his moan about the position he was being played in during the 2011 Copa America, when Argentina were struggling and needed everyone to pull together.
After his performance last week for Defensor in the Copa Libertadores triumph, can the Uruguay coach really keep attacking midfielder Giorgian De Arrascaeta out of the World Cup?
It reminds me of the question mark against an older but less mature Paul Gascoigne before Italia '90. Players with this control of the ball and space are rare indeed.
David Furrows
I'm a fan - I did a page on him in World Soccer magazine a few months back, and I think a case can certainly be made for his inclusion in the squad, to give him experience if nothing else. He's much more lightweight than Gascoigne was going into Italia 90, though, and not nearly as complete. I can't see him taking the tournament by the scruff of its neck the way that Gascoigne did 24 years ago.