Swansea not too good to go down warns Ashley Williams
Last updated on .From the section Swansea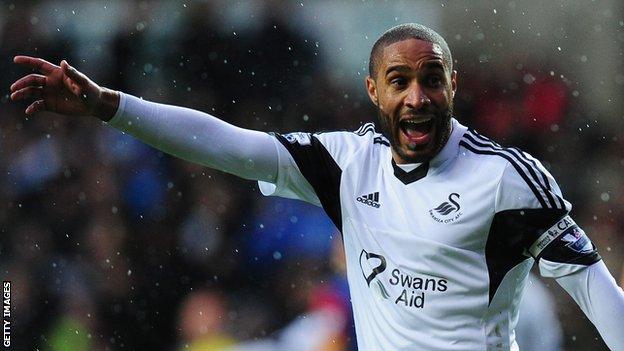 Captain Ashley Williams has warned that Swansea are not too good to be relegated from the Premier League.
Garry Monk's side have won just once in their last five league games and their next two matches are away to Everton and Arsenal.
"Any team can go down. We've seen good teams go down before," said Williams.
"We are not looking at going down but we know we are in a bit of a battle.
"It might be a little bit foreign to a few of the boys but we'll see what it's all about and see if we can dig in because we are right in it."
The defeat against the Baggies was the second home match in a row that the Swans squandered a first half lead and failed to capitalise on early dominance.
They also conceded a late goal against relegation rivals Crystal Palace to draw 1-1.
"Everyone obviously assumed that we were going to get six points and we didn't we got one," said Williams.
Despite the set backs Williams believes the Swans, who haven't won away in the league since November, are capable of picking up points in their next two games on the road.
Garry Monk's side travel to sixth-placed Everton on Saturday before facing title chasing Arsenal at the Emirates on 25 March.
Swansea have never beaten the Toffees, who have lost just once at Goodison Park this season, in the league.
Roberto Martinez's side have already beaten the Swans there this term, 3-1 in the FA Cup in February.
Williams is confident the Swans can stop the Blues completing the league double over them on Saturday.
"I think we have to look positively at the next two games," he said.
"We've beat good teams on the road before and that's the attitude we've got to go with.
"Since Garry Monk has been in charge we've gone to Napoli and Liverpool and okay we haven't won but we've showed that attitude.
"I'm sure if we continue to show that attitude, which we didn't show for whatever reason in the second half against West Brom, we'll pick up points."