Nicolas Anelka: Fifa considers FA request for global 'quenelle' ban
Last updated on .From the section Football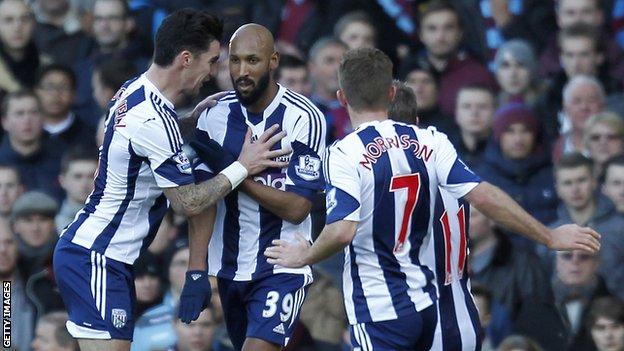 Fifa is considering a worldwide suspension for sacked West Bromwich Albion striker Nicolas Anelka after a request by the Football Association.
WBA dismissed the player for gross misconduct on Friday, after he claimed to have quit the club on social media.
"The FA has requested the extension of the sanction to have worldwide effect," a Fifa spokesperson told BBC Sport.
"We are currently analysing the information and documentation at our disposal."
The FA's decision to pursue a global ban for Anelka, in an attempt to ensure his suspension will be served should he transfer to a foreign club, comes after a protracted disciplinary process.
In January, Anelka denied an FA charge relating to his performing the quenelle - a gesture likened to "an inverted Nazi salute" - after scoring against West Ham United.
Following a two-day hearing in February, the FA's independent regulatory commission found Anelka guilty on two charges - that his making the quenelle gesture was abusive and/or indecent and/or insulting and/or improper, and that it included a reference to ethnic origin and/or race and/or religion or belief.
Anelka maintained the controversial gesture was in support of his friend, the French comedian Dieudonne M'bala M'bala - the person who first brought the quenelle to prominence.
In its verdict, the FA panel stated it did not believe Anelka had been deliberately anti-Semitic but imposed a five-game suspension and ordered the player to complete a compulsory education course. West Brom reacted by suspending the player pending an internal investigation and issued Anelka with a fine of £80,000.
Both Anelka and the FA, who had wanted a heavier sanction, decided not to appeal against the decision.
Having failed to reconcile differences with West Brom, Anelka tweeted on Friday: "Following discussions between the club and myself, certain conditions have been set for me to rejoin the group, which I can't accept.
"In order to preserve my integrity, I've terminated my contract with West Brom with immediate effect."
West Brom then responded by claiming "the termination was invalid as it was not conducted under the correct legal process".
In a statement the club also detailed the conditions Anelka needed to meet to enable his club suspension to be lifted.
But Anelka's West Brom career is now over, having made 12 appearances and scored two goals, both in the game against West Ham in December.