Manchester United: Is it possible to replace a managerial legend?
Last updated on .From the section Man Utd
However closely you look at Wilf McGuinness's head, you will struggle to find any hair.
It is "as smooth as you can get it", he tells me smiling.
First, his thick black hair turned white. Then, he says, it all fell out - within about a month.
Smiling again, he jokes: "It saves me a hell of a lot on haircuts."
He puts his hair loss down to what happened to him at the football club he has devoted much of his life to.
"I wonder if I could sue," he says, then laughs. "I was going along nicely and then, at the end of it, all my hair started falling out."
The "end of it" refers to the climax of his brief fairytale as manager of Manchester United.
"I managed Manchester United for four seasons," he says. "Summer, autumn, winter and spring."
It was actually about 19 months, but the joke sounds better.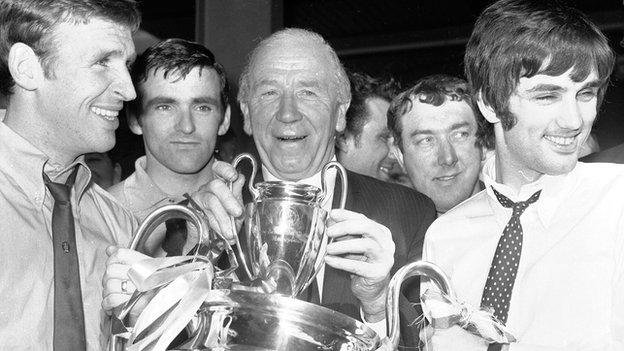 McGuinness basically became the filling in a legend sandwich.
He took over from Sir Matt Busby, keeping his seat warm, then left when Sir Matt returned.
Until Sir Alex Ferguson, Busby was the most successful manager in United's history.
He steered the club to five league titles and two FA Cup victories, capping that off with the European Cup.
And all that despite the tragedy of the Munich air disaster, which almost cost him his life and robbed him of a number of his Busby Babes.
Every manager's reign - however successful - has to end eventually. Busby announced his retirement in the spring of 1969.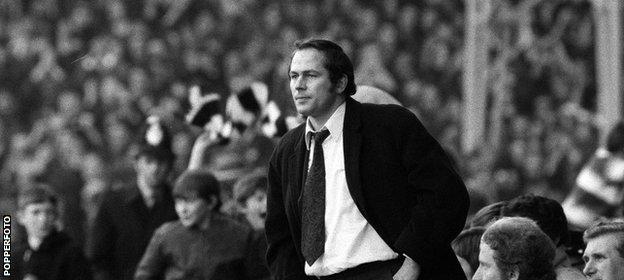 "There were people mentioned all the time, bigger names than I was," says McGuinness of the managerial speculation that followed Busby's departure.
Few would have predicted the new boss was going to be a 31-year-old member of his coaching team.
"Matt Busby called me into his office and said: 'Wilf, I'm retiring and you are to be the next manager of Manchester United'. It was 'wow'. I was just delighted about it."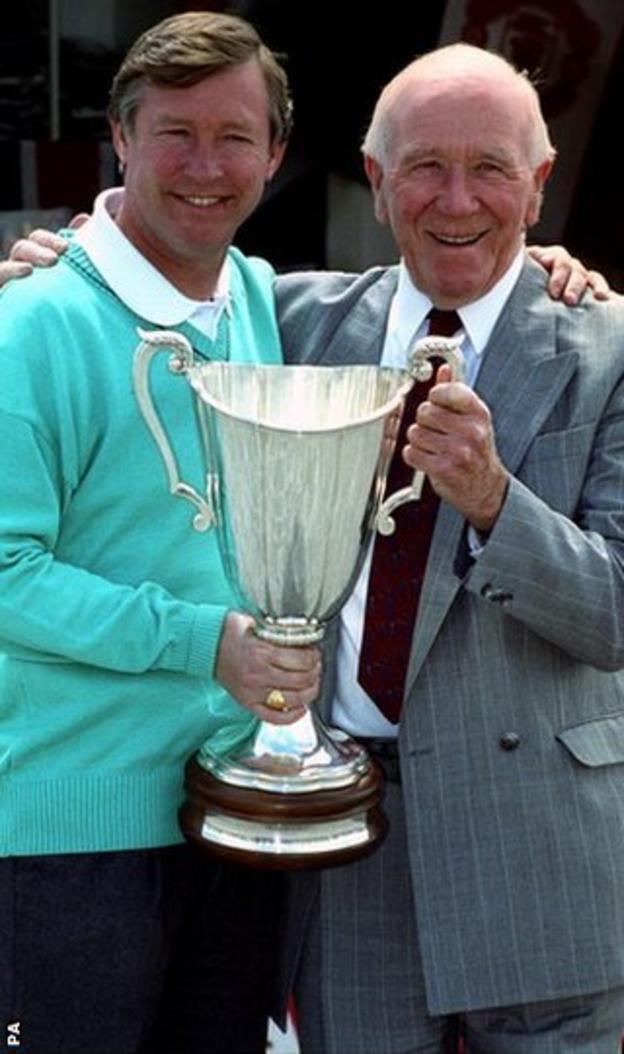 As David Moyes is discovering, taking over from a living legend can be exceedingly tough. And so it proved for McGuinness.
"We weren't successful enough," he says. "And when you're not successful, people will have a moan."
McGuinness guided United to three cup semi-finals but lost them all.
"If you win things, you're the hero," he says. "If you don't, you're not. I didn't win enough."
Sir Alex Ferguson became a director at United after retirement and can often be seen watching from the stands.
Busby also remained at the club after stepping down, becoming its general manager.
"I was delighted that he was there to just put his hand on my shoulder and guide me," says McGuinness.
He recalls the moment he was called into Busby's office "around Christmas time" in 1970.
"He said: 'I'm very sorry, Wilf. You can have your old job back, but I am taking over Manchester United until we get a new manager'. I was heartbroken. I felt I had to leave - and I did leave. I wouldn't be human if I didn't feel upset about it - and I was upset".
He admits he still is upset. For the first time during our conversation, he looks sad.
"It was a pity," he says. "But that's life. You bite the bullet and get on with it. The job was a big job. I was United through and through and wanted it to last forever which it didn't. I was very hurt by it all."
Then we turn to the question that must have gone through the mind of every Manchester United fan and, very possibly, that of Moyes himself.
Is it impossible to successfully replace a living legend?
"I wouldn't say impossible but it was very difficult to follow the great Matt Busby as manager," he says.
I remind him that Ferguson was even greater - in terms of success - than Busby.
So are Ferguson's boots too big to fill?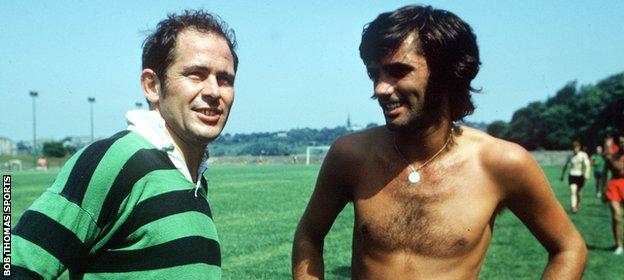 "The man who takes his place has a big job on. And David Moyes has a big job," says McGuinness, who believes Moyes will succeed.
So having taken over from the club's first knight and failed, what advice would McGuinness give to Moyes?
"Be yourself," he says. "Then, if you don't succeed, you only have yourself to blame."
He adds: "All he needs is a bit of a success. If he doesn't think it's going to happen, buy a couple of players and see if that will work. I'm sure that will."
And his advice to the club's board?
"Stick by this man," he says. "It would be very wrong to change him now. Sir Matt Busby had a tough first season. Fergie had a tough first season."
I ask McGuinness if he thinks Ferguson should do what Busby did and come back.
"Do I heck!" he says.
He rejects the thought that Moyes is the "modern-day Wilf McGuinness".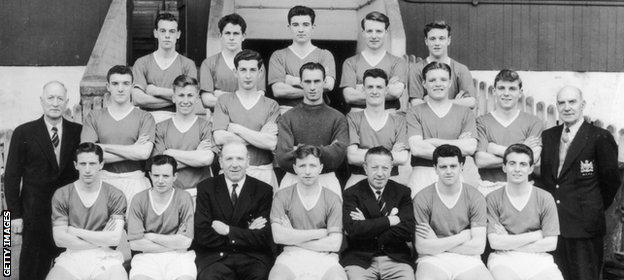 He points out that the current manager is much more experienced than he was when he took over.
Wilf made his Manchester United debut as a player at the age of 17 and was one of the Busby Babes until a leg injury ended his career.
At the age of 76, he is still working at Old Trafford, entertaining corporate guests on match days.
And he certainly is an entertainer.
Reflecting on his time as boss, he says he should have been given more time.
"Ten years or so," he says, smiling once more.
We do not yet know how much time Moyes will be given.
So far, at least he does still have a full head of hair.