Hull City ask season ticket holders to vote on Tigers rebrand
Last updated on .From the section Football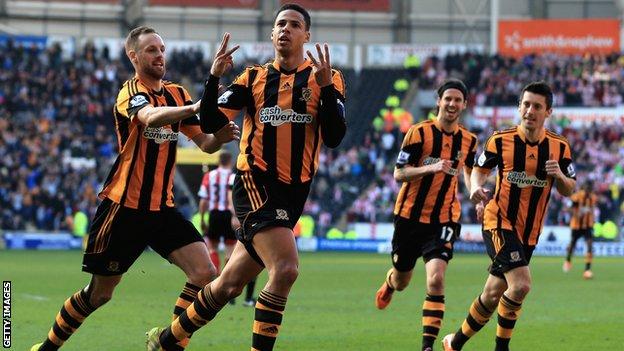 Hull City say they are "disappointed" by a recommendation the Football Association rejects proposals to rebrand the club, and will ask the "silent majority" of fans to vote on the plans.
Owner Assem Allam has threatened to sell if he is not allowed to change the 110-year-old name to Hull Tigers.
Hull fans' group City Till We Die has opposed the changes.
"We feel we have been prejudiced from the outset," a Hull statement read.
In December, the club formally applied to rebrand themselves from next season.
The Football Association will make a final decision on the proposals when the FA council meet in April, but on Monday revealed its membership committee has made a recommendation to reject the plans.
Hull's owners feel their case has not been dealt with fairly.
"The FA introduced a new policy to handle our application on the back of consultations with the City Till We Die group, and we therefore feel that our application was already pre-judged," the club statement continued.
"This feeling has been reinforced with yesterday's announcement, as the club feels this will further prejudice the forthcoming ballot of season pass holders.
"This is now the time for the silent majority to come forward and support the club's aspirations. Details of the ballot will be released to season pass holders within the next 48 hours."
The Football Supporters' Federation has supported City Till We Die in their campaign to oppose the name change.