Dundee United and SFA end war of words over Cup tickets
Last updated on .From the section Football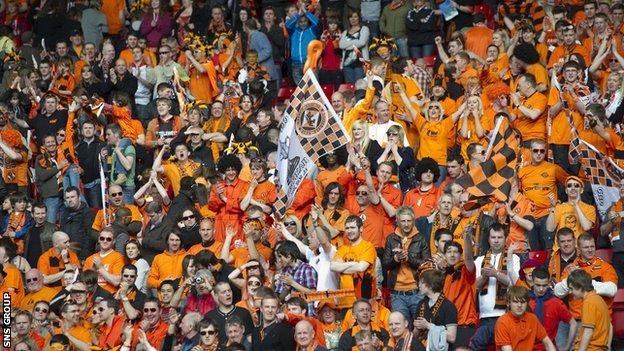 Dundee United say they and the Scottish FA have held "constructive discussions" over ticket plans for the Scottish Cup semi-final against Rangers.
United had complained about Rangers' Ibrox Stadium being chosen as the venue - and their own allocation of tickets.
But United now say "both parties have agreed to conduct future consideration on this matter in private".
United chairman Stephen Thompson had accused the SFA of being "economical with the truth" over the ticket issue.
The SFA, which had already turned down a request to switch the tie from Ibrox, claimed that United declined their original allocation and asked for fewer seats, with an option to sell more.
But Thompson said: "That is not our reflection of what happened at the meeting and we are very unhappy."
With Hampden Park being redeveloped for the Commonwealth Games, the SFA chose Rangers' stadium to host both semi-finals back in October.
A statement from the SFA said that, at the pre-operations meeting last week, United were offered 11,063 seats, only for the club's representative to say that "in order to ensure maximum attendance", United would prefer to only be allocated the 8,012-seat Broomloan Road stand for the 12 April tie, which kicks off at 12:45 GMT.
The SFA also reiterated that, should United sell out their allocation, more seats will be made available.
United had previously indicated they would seek up to 20,000 tickets.
"Dundee United were allocated the entirety of the Broomloan Road Stand, the Govan West corner and a section of the Govan Stand Front and Rear," added the SFA statement.
"The number was offered on the basis of Dundee United's ticket sales for recent semi-finals.
"Last year, against Celtic at Hampden Park, with a 12:45 GMT kick-off, Dundee United received an allocation of 10,686 tickets and sold 6,783.
"For the 2010 semi-final against Raith Rovers at Hampden Park, with a 15:00 GMT kick-off, Dundee United were allocated 11,806 tickets and sold 9,969.
"The Dundee United official present stated that, in the first instance, the club would not require the additional allocation in the Govan West corner, Front and Rear and, instead, would prefer the Broomloan Road stand, capacity 8,012. He was invited to revert to the club for confirmation but declined.
"Notwithstanding the present allocation of 8012 - as requested by the club - Dundee United retain first option on the Govan West corner, and a section of the Front and Rear, an additional 3,051 seats.
"There remains the opportunity to extend the allocation subject to agreement between the clubs and the relevant police and stewarding advice."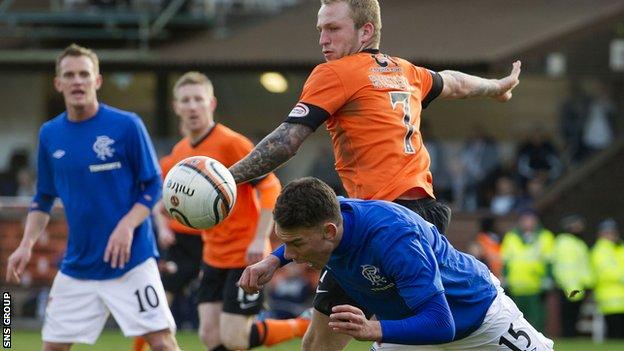 United immediately released a counter-statement, describing the SFA's version of events as an "incomplete account" and asked the governing body to "revisit" the possibility of a venue switch.
Talking to BBC Radio Scotland's Sportsound, Thompson added: "We never said we'd take the initial allocation of 8,000.
"We said sell the Broomloan Stand first of all then move on from there - we never said that's all we wanted. As far as we're concerned, we're unhappy that a statement has been sent out to really have a go at a member club.
"We have to get as big an allocation as we can and if we don't sell them all then Rangers can have them. Of course they can. But we should be at least entitled to a fair amount of tickets.
"Both clubs should be treated equally and we don't believe we have been. If we take 13,000 or 14,000, that would be a very good support for us at a semi-final.
"It's not about a fear of going to Ibrox. This is the third year running we have played them in the Cup - we went there two years ago with a much smaller support and won."