Rangers fans will maintain plans for season ticket money
By Richard Wilson
BBC Scotland
Last updated on .From the section Football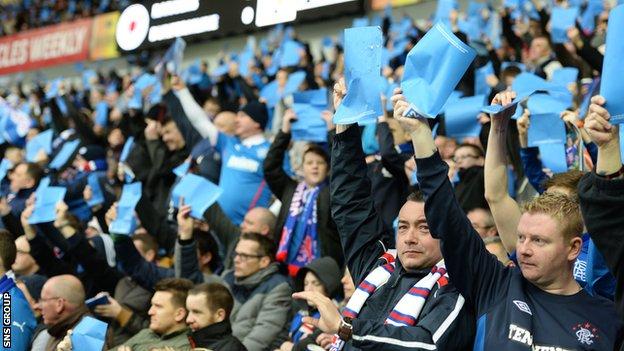 Rangers supporters will press ahead with their plans to create a season ticket trust fund.
They are "reluctantly" prepared, though, to give the board 30 days to reveal their business plan to restore the club to its former status.
The Union of Fans have heeded Dave King's call to allow the board to try to fulfil their public pledges.
This includes raising the investment required to enable challenging Celtic again in the top flight.
The supporters hope to back the club, alongside former Ibrox director King in a fan investment vehicle, as part of a fresh share issue. This seems the only way the board can raise new capital after their commitment to not use Ibrox or Murray Park as security against any borrowing.
The UoF - a coalition of supporter groups - have held two meetings with King, who invested £20m in Rangers under Sir David Murray, and they continue to have faith in the South African-based businessman's intention to provide the funding to underpin the club's journey back to the top flight.
Chief executive Graham Wallace has previously insisted that cost-cutting is required, and the board recently agreed to borrow £1.5m from the shareholders, Sandy Easdale and Laxey Partners, with the loans secured against the Albion car park and Edmiston House.
Following a meeting with King on Friday, however, the board pledged to enable Rangers "to compete at the highest levels of Scottish and European football".
This will require investment in the team and the football department, which continues to operate without a scouting set-up.
With publicly limited companies bound to abide by any statements they make, the Rangers directors will need to deliver a business plan within four weeks, before supporters will be asked to renew their season tickets.
The trust fund would allow fans to pool their renewal money and use it as leverage against the directors, with the intention being to only provide the money in return for gaining security over Ibrox and Murray Park, to protect them. King's call for patience still leaves fans with the opportunity to pool their season ticket money, or attend on a game-by-game basis, if they are unhappy with the board.
"Clearly the board's position has changed over the weekend, from one where we had no clear sight of their strategy with regard to moving the club forward, to one where they have now committed to fans and shareholders to implement the funding plan we believed was required," said the UoF statement.
"This plan, if properly executed, should allow the club to compete both domestically and in Europe in the medium term. We are pleased that they are no longer considering the massive scaling back of club operations that would have been required, both on and off the park, under their previously assumed but never communicated strategy.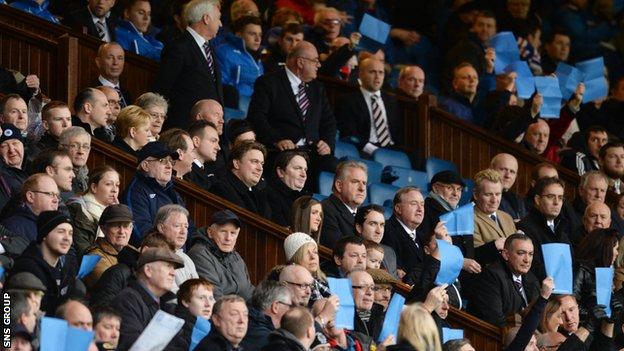 "We also note that they have confirmed that they do require further investment as a matter of some urgency. We expect significant amounts of that investment to come from a united fan investment vehicle, including Dave King.
"Although pleased that they have made a commitment not to raise finance, or take out any type of security, on Ibrox or Auchenhowie, we are disappointed that they have refused to make this as unequivocal as we would have expected. 'We have no plans' does not engender the same confidence as 'we will not'.
"Having secured these binding, public commitments from the board, we are now prepared to wait for the publication of the business review from Graham Wallace within the next 30 days. We expect it to fully reflect the promises made by the board in their last statement and we are, reluctantly given previous experience, relying on them to fulfil those promises.
"We expect them to produce a coherent vision and detailed plan of how they will fund it.
"In the meantime, we will be continuing with plans to set up a Season Ticket Trust. We are determined to be in a position to provide it as an option, if required, and will continue to update the supporters on our progress on a regular basis.
"We expect to engage with legal advisers and trustees as early as next week. Without fan pressure, we would not have made the significant progress we have and we are fully aware that following the completion of the business review, depending on its outcome, the fans may once again be required to act.
"We remain fully committed to continuing our work with Dave King as part of a fan-led initiative to invest in the club and will be in close contact with him over the coming weeks. We fully support his vision for Rangers and his methods of achieving that vision and will hold the board fully to account, within the timescales they have indicated, for the binding, public commitments they have made."
As well as producing the business review within the four-week timeframe, Rangers International Football Club are required to publish their interim results before the end of March. These are expected to show a reduction in the £14m losses of the previous financial year.