Arsene Wenger: Arsenal's great survivor by his early rivals
Last updated on .From the section Football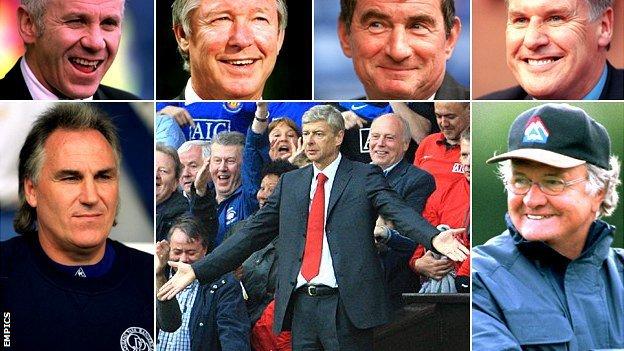 The local paper welcomed him in London with the headline "Arsene who?" but when his side meet Chelsea on Saturday, Arsene Wenger will reach 1,000 games in charge of Arsenal.
Since his appointment on 30 September, 1996, 153 managers, caretakers or management teams have taken charge of Premier League clubs and 18 years on, the average stay of a top-flight boss stands at 1.86 seasons.
The retirement of Sir Alex Ferguson - who pays his own exclusive tribute below - left Wenger as English football's longest-serving manager and, of the 19 others in the Premier League when he arrived, only Harry Redknapp remains a club boss.
BBC Sport spoke to some of those who pitted their wits against the Frenchman in his first season in England to find out how he survived the ruthless short-term nature management so often provides.
*Figures below exclude caretaker roles and a manager returning to a club is counted as a change.
Aston Villa - Brian Little
Managers since Wenger took charge - 8
A new owner, eight managers but no major trophies have been won at Villa Park since Wenger took charge. The Midlands club's last silverware - the League Cup - arrived under Little, six months before the Frenchman's arrival.
Little on Wenger: "When Arsene arrived he had the basis of a decent team to which he added players he knew from abroad and with great success. His decisions with player recruitment were so good.
"Ultimately, his success has allowed him to choose his own destiny."
Blackburn Rovers - Ray Harford
Managers since Wenger took charge - 11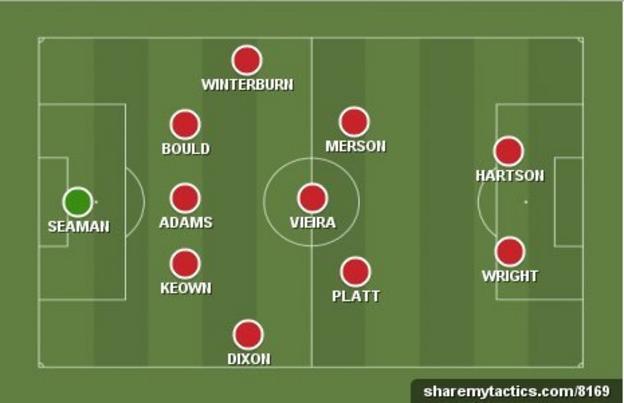 The Wenger era started with a 2-0 win at Ewood Park in October 1996 and Harford handed in his resignation less than two weeks later. Harford, who served as assistant to Kenny Dalglish when Rovers won the title in 1995, passed away at the age of 58 in 2003.
Blackburn have hired four managers since Venky's bought the club in 2010, with a 57-day reign for Henning Berg and 67 days in charge for Michael Appleton providing a stark contrast to immovable Wenger.
Chelsea - Ruud Gullit
Managers since Wenger took charge - 12
Gullit was sacked in 1998 but was the first foreign manager to win a major trophy in England with FA Cup success in 1997. Current Blues' boss Jose Mourinho has proven a formidable rival for Wenger, recently labelling Arsenal's eight-year trophy wait as "failure".
Coventry City - Ron Atkinson
Managers since Wenger took charge - 13
A new ground, administration, two relegations, a pair of 10-point deductions and now homeless. Life at Coventry has been tough since Wenger took the helm at Highbury in 1996, when the Sky Blues held out for a goalless draw in the Frenchman's first home game.
Atkinson on Wenger: "He was fortunate as he inherited a very good defence and could focus on creativity. I think sometimes he has been a bit stubborn and could have spent some of the club's money but if you were his employers you'd be over the moon. Every other manager who gets in the top four is often heralded.
"A lot of changes in English football were attributed to him but it was blown out of proportion. His philosophy to let players play was the big change. Trophies early on were his money in the bank. It was that success which has afforded him the chance to come through this tough spell."

Derby County - Jim Smith
Managers since Wenger took charge - 9
Jim Smith's side handed Wenger his first heavy defeat in England, when Paulo Wanchope and Dean Sturridge were among the goals in a 3-0 win early on in the 1997-98 season. Arsenal responded by going on to win the double.
Smith on Wenger: "He was never one to pop in and have a beer after the game in my experience. Pat Rice would sometimes invite you in, but you didn't see Arsene after games. I think with the advent of foreign managers, that all changed.
"It's not to his detriment, that's just how he is. Certainly early on in England he seemed quite a shy man. What he has shown throughout is he is a tactician, capable of putting together great sides and there is no doubt about it, he will leave a dynasty at Arsenal."

Everton - Joe Royle
Managers since Wenger took charge - 6
Everton fans could be forgiven for wanting to see the back of Wenger as the Blues have beaten his side just four times in 38 attempts.
Royle on Wenger: "Only Arsene and Sir Alex have been in charge of pretty much everything at their clubs in recent years. They are the last of a breed in that now, everything is becoming departmentalised. More head coaches and directors of football are coming to the fore - it is a change in style. Oddly, being in charge of everything is easier, but the environment is changing, especially at the big clubs."
Leeds United - George Graham
Managers since Wenger took charge - 10
In shaping Arsenal's defence, Graham laid foundations for Wenger before being sacked in 1995.
Chief executive David Dein sought Wenger as his replacement but his proposal was rejected by the board as Bruce Rioch took charge at Highbury for one season. Graham joined Tottenham and left in 2001, three months before Sol Campbell departed Spurs to become Wenger's most controversial signing.
Graham on Wenger: "I thought Arsenal were taking a chance. Arsene had done well at Monaco and in Japan but I must admit, I thought it was a big step. He got success very quickly winning titles and cups which is unbelievable when you think about the change in culture he adapted to.
"Probably a minor criticism is he has not been able to reproduce that 'Invincibles' side and fans of course say 'why can't we do that?'"
Leicester City - Martin O'Neill
Managers since Wenger took charge - 13
O'Neill's Leicester felt the full force of a stunning Dennis Bergkamp hat-trick in a 3-3 draw in August 1997 as Wenger began to get the best out of the Dutchman. Wenger has never suffered defeat to the Foxes, whose 13-managers since he arrived includes a stint as short as four games for Martin Allen in 2007.
Liverpool - Roy Evans
Managers since Wenger took charge - 6
Wenger did not record a victory over the Reds until his fifth season in 2000 and his side went on to lose to two late Michael Owen goals in the FA Cup final nine months later. Evans meanwhile left Liverpool in 1998 after a failed co-management role with Gerard Houllier.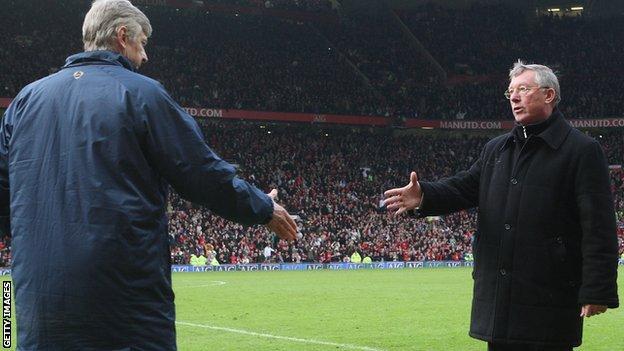 Manchester United - Sir Alex Ferguson
Managers since Wenger took charge - 2
When United ended Arsenal's 49-game unbeaten Premier League run, Ferguson said the defeat "scrambled Arsene's brain". Their intense rivalry blossomed into a mutual respect as they became arguably the defining managers of a generation.
Ferguson on Wenger: "His undoubted love of the game was always apparent but his abundant energy and desire over all of those years has allowed him to survive in such an intense profession.
"Of course, his ability as a coach, manager and teacher have brought huge successes to Arsenal. However, it is his convictions, beliefs and philosophies that will always remind me that he is a special person. Someone who set out his way at a great football club and produced some wonderful players and teams."
Wenger's 999 games v Sir Alex Ferguson's first 1,000

Games

Wins

Draws

Losses

For

Against

Win %

Arsene Wenger

999

572

235

192

1845

961

57.3

Sir Alex Ferguson

1,000

564

248

188

1784

944

56.4
Middlesbrough - Bryan Robson
Managers since Wenger took charge - 7
Robson lasted six years at the Riverside Stadium and his last trip to Highbury with Middlesbrough yielded a shock 3-0 win. His final managerial role ended with the Thailand national side in 2011. Boro's current boss - Aitor Karanka - is the club's first overseas manager in a 138-year history.
Robson on Wenger: "He was a bit of a character and dubbed the 'professor of football', bringing in new ideas. Tony Adams used to tell me of the things he'd brought in. He added a level of discipline, got the players taking vitamin tablets, improved diet and introduced warm-up sessions on the morning of a match."
Newcastle United - Kevin Keegan
Managers since Wenger took charge - 12
Wenger's first season in England was Newcastle's last as a title-challenging outfit. Keegan left midway through the campaign and returned in 2008, but current Toon incumbent Alan Pardew is the Premier League's second longest-serving manager, having been appointed in 2010.
Nottingham Forest - Frank Clark
Managers since Wenger took charge - 15
The longevity enjoyed by Brian Clough at the City Ground between 1975 and 1993 is a luxury not nearly bestowed on any Forest boss during Wenger's reign. The Championship side have averaged almost a manager a season since.
Clark on Wenger: "Don't forget players get bored of the same voice. So you either have to reinvent yourself or change your players. You do not survive in the way he has and achieve success without a ruthless streak and the courage to back your convictions.
"It just shows that you have to appoint a manager who has a philosophy and who knows the club's philosophy. If you don't, you will get conflict sooner rather than later. Here is an example of two philosophies marrying together perfectly."
Sheffield Wednesday - David Pleat
Managers since Wenger took charge - 13
Managerless Arsenal met Pleat's side before Wenger took charge early on in the 1996-97 season, though the Frenchman was already instructing his soon-to-be club on player acquisitions, with Patrick Vieira and Remi Garde brought in days before Bruce Rioch's sacking.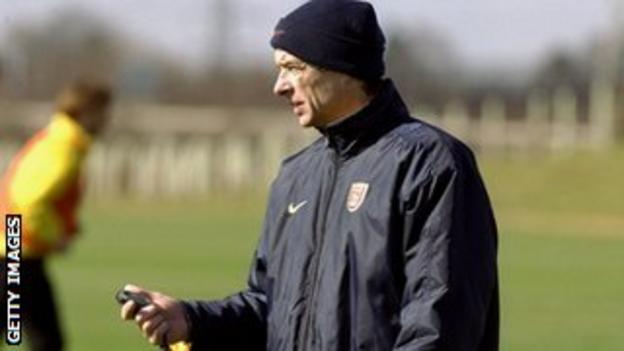 Pleat on Wenger: "When the game is on, it's fair to say he likes to win. Away from the game, if I meet him at a function or an under-21 game he is charming, easy to talk to and always interesting.
"Players who play for him are positive and appreciate his method, whether that be his desire to improve nutrition or his commitment to keeping training sessions to the stop watch. He has the magnetic personality you need to make people listen."
Southampton - Graeme Souness
Managers since Wenger took charge - 15
Souness lasted a season and few have hung around on the south coast for much longer. Mauricio Pochettino is the club's sixth manager in a six-year period in which the Saints rose from League One to the Premier League.
Sunderland - Peter Reid
Managers since Wenger took charge - 10
Three months into Wenger's reign a Bergkamp pirouette and curling effort lit up an FA Cup third round replay at Roker Park. Reid admitted he had to stop himself from clapping in the Sunderland dug-out.
Reid on Wenger: "I had a couple of shall we say tete-a-tetes with Mr Wenger on the sideline in the early days. I recall one at Roker Park and another in a game where Vieira got sent off. He defended his team as I did mine and he quickly got used to our culture.
"I remember being manager at Leeds and setting up defensively when we had a corner because that's how scared you were of the pace and power he had harnessed in his team. The 'Invincibles' was the pinnacle, they had everything."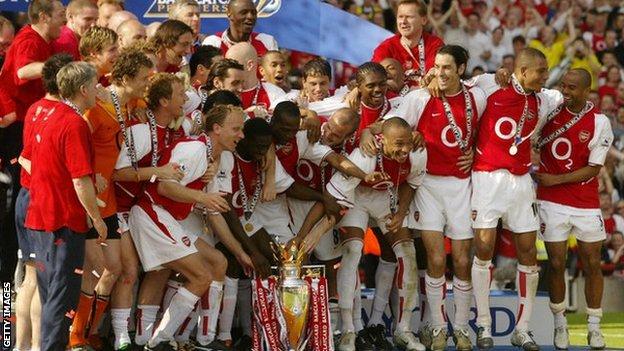 Tottenham - Gerry Francis
Managers since Wenger took charge - 10
Wenger himself had a close relationship with Spurs before becoming Arsenal boss, thanks largely to regular scouting trips to White Hart Lane and a friendship with former Tottenham chairman Irving Scholar.
Francis on Wenger: "I had agreed to sign Emmanuel Petit and had met him and he was coming to Tottenham, the deal was done. Arsene though had been with Petit at Monaco and he spoke to him and that was that. At the time it was a big blow and he became instrumental for them so I wasn't too happy, but we laughed about it recently.
"You cannot explain what being a football manager is like. I say to people it's like having a baby. Unless you've given birth and know what it's like, you have no real idea of what's involved. The pressure is relentless, year in, year out, so to handle that for 1,000 games at one club is remarkable."
West Ham United - Harry Redknapp
Managers since Wenger took charge - 7
The Hammers faced Arsenal five times in the 1997-98 season and could not register a win as Arsenal, buoyed by Wenger's signings of Nicolas Anelka and Marc Overmars, dominated the domestic scene. Redknapp has managed four clubs since the Hammers and his Tottenham side fought back from four goals down to draw at the Emirates in 2008 in one of the best north-London derbies in history.
Wimbledon - Joe Kinnear
Managers since Wenger took charge - 4 (club ceased to exist in 2004)
The Crazy Gang were at their resilient best to take four points from Arsenal in Wenger's first season, with Vinnie Jones netting the only goal of the game at Highbury. Kinnear's seven-year tenure ended in June 1999 and five years later, Wimbledon were moved to Milton Keynes and MK Dons were formed.