Bolton midfielder Stuart Holden confident he will play again
Last updated on .From the section Bolton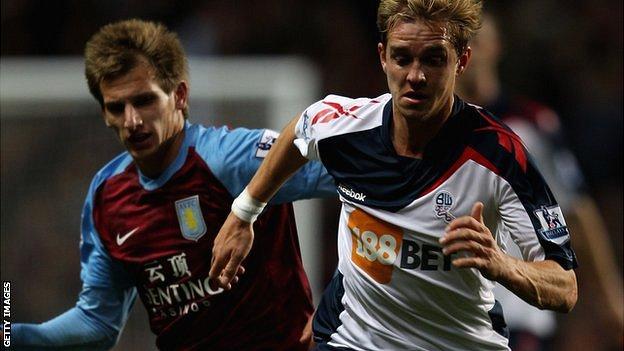 Bolton midfielder Stuart Holden is confident he will return to action after a fourth serious knee injury.
Three comeback attempts have ended with Holden suffering further injuries.
"I am a warrior and that's my mentality. I won't give up because I know I still have a lot left to give the game," he said.
"It's frustrating when you keep asking yourself, 'Why do you keep having these setbacks? And why is it a big injury after big injury?'
"There were a lot of emotions flying around but I'm well and truly feeling like I want to do this thing again."
Holden was part of a Bolton team that sat seventh in the Premier League table and were about to face Stoke in an FA Cup semi-final when he was first injured.
United defender Evans was sent off for a foul which left Holden with a broken left leg and a deep cut that required 26 stitches.
Holden has started only nine games since - one for Bolton, four on loan at Sheffield Wednesday in 2013 and four for the US national team.
He told YouTube channel Soccer Morning: "It's easy to harbour those feelings and think about 'what if?' or 'why did he do that?' and be angry.
"I've learned in my life not to dwell on those things because I can't change them."
His most recent return to football saw him last 23 minutes of a Bolton reserve game against Everton in March before he limped off. He has since undergone surgery in America on his right knee.