Chippenham v Hungerford: Rob Dean injury 'horrendous' says boss
Last updated on .From the section National League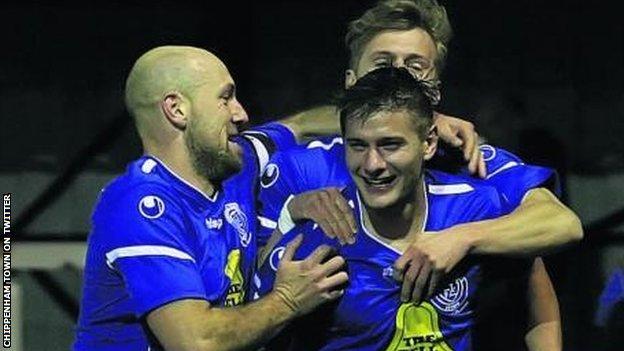 Chippenham's Rob Dean will have to undergo total reconstruction surgery on the leg injury he suffered in Tuesday's abandoned game at Hungerford.
The midfielder fully dislocated his right knee and twisted his tibia following a tackle by Ian Herring, half an hour into the Southern Premier tie.
The referee abandoned the game while the 24-year-old was treated by paramedics on the pitch for 45 minutes.
"It was quite horrendous," manager Mark Collier told BBC Wiltshire.
"They weren't keen to move him until he was fully anesthetised.
"For players to be seeing that kind of thing on the pitch was horrendous to say the least."
The incident occurred on the half-way line and Herring, a former Bluebirds player, received a red card for the tackle, which sparked a scuffle between the players.
A first response ambulance tended to Dean, and it was during this initial treatment that referee Reuben Simon called the game off with the score at 0-0.
"He's [Herring] just caught Rob, it was just a tackle. You'll see a lot of tackles like that on a Saturday and on they move. But on this occasion Rob's suffered," added Collier.
"There was a bit of a melee after the sending off but once it all calmed down everyone realised they should be thinking about Rob.
"The mental state of players from both teams wasn't great, so the referee made the right decision."
Dean plays part-time for Chippenham and works for a bank during the day.
The club confirmed he would undergo the operation at Swindon's Great Western Hospital, and Collier added: "He's going to be off work for some time. Rob's a good player and a good lad. Our thoughts are with him."
A statement on the club website said: "The club would like to thank Scott Garraway [Chippenham sports therapist] for the professional way that he looked after Rob, and [striker] Alan Griffin and [defender] Greg Tindle for their help in caring for Rob on the pitch."