Newcastle: Alan Pardew apology helped avoid longer stadium ban
Last updated on .From the section Newcastle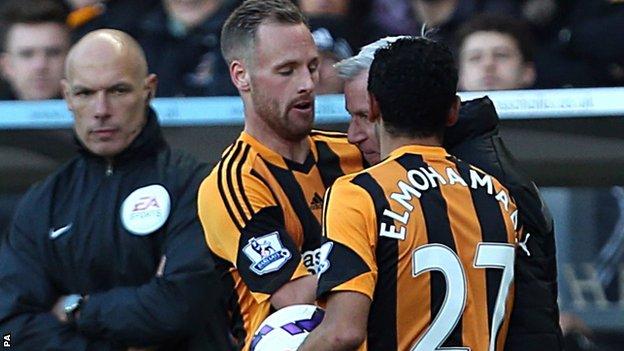 Alan Pardew's swift apology after headbutting Hull City's David Meyler helped the Newcastle manager avoid a longer stadium ban and larger fine.
He received a seven-game ban, including a three-game stadium ban, on 11 March.
An independent Football Association commission said it had considered a five-match stadium ban but decided against that after taking into consideration action taken by Pardew.
In its written reasons for Pardew's punishment, which also included a £60,000 fine, the independent commission noted 10 key points from his mitigation, which included:
he clearly accepted responsibility for his actions on the day

he made a full apology directly after the game

he meant no physical harm to the player and there was no attempt to use force

he was fined £100,000 by his club the same day and was warned by the club

he has shown remorse

he sent a personal letter of apology to the Hull City manager
"Based on the mitigation presented together with the action taken by both the club and Mr Pardew, the regulatory commission came to the conclusion that the appropriate sanction set out was fair, reasonable and proportionate," the commission said.
Pardew was given a two-game ban for pushing an assistant referee in 2012 and has been involved in several controversial incidents.
In January, he said sorry after television cameras caught him verbally abusing Manchester City manager Manuel Pellegrini during Newcastle's 2-0 defeat at St James' Park.
In November 2006, he apologised to Arsenal manager Arsene Wenger for his celebrations following a winning goal against the Gunners, eight months after he denied Wenger's claims that he was a racist or xenophobe.