Kevin Wilkin: Nuneaton Town deny Wrexham approach for boss
Last updated on .From the section Football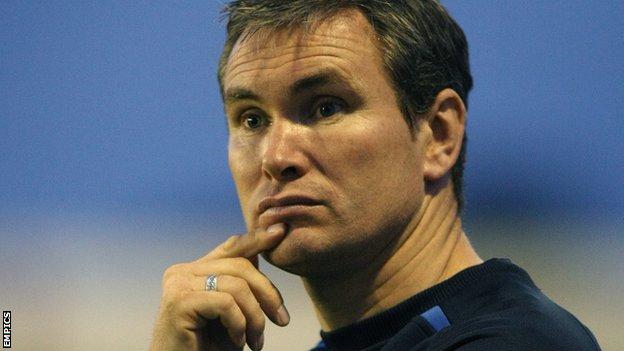 Nuneaton Town chairman Ian Neale says there has been no approach from Wrexham regarding Boro manager Kevin Wilkin.
Neale told BBC Coventry & Warwickshire: "Neither the club or Kevin have been approached about the Wrexham job.
"Kevin is committed to Nuneaton and he's got a massive job in front of him. Any reports are just not true, it's just speculation."
Neale continued: "It's a compliment to Kevin and a compliment to the club and the success we've had, that he's linked with every job that goes along.
"We wouldn't want to lose Kevin. I've worked with Kevin for the last six years.
"We've got a fantastic relationship and I want to work with Kevin in the future."
Since his appointment as permanent manager in 2007, Wilkin has helped rebuild the club from liquidation in 2008 and has led Town into contention for promotion to League Two.
"The last thing I want is to lose Kevin so, [if there was an approach] we would look to knock that back.
"I want to progress this football club and Kevin Wilkin is a massive part of that.
"If somebody came along and he'd had a fantastic offer and it was a fantastic opportunity, then we have an understanding that we'd have that conversation together and he would be open and transparent about it.
"He wants to take this club forward and progress it into the football league.
"Wrexham have their own issues at the moment. They're certainly not in the ascendancy and Nuneaton Town are.
"I think I would have to be fair to Kevin, if the situation did arise.
"If somebody wants to leave the football club you can't hold them against their will."