Real Madrid v Barcelona: Has Ronaldo overtaken Messi?
By Andy West
European football writer
Last updated on .From the section European Football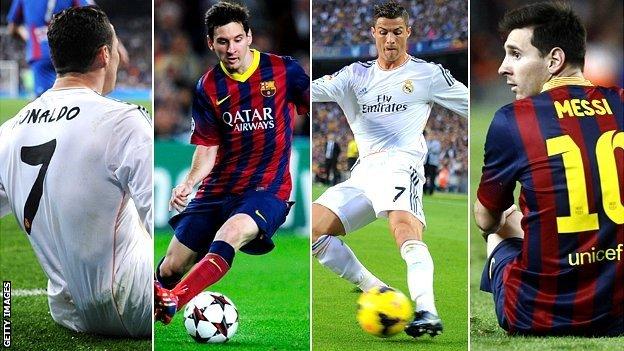 There has been a strong and widespread consensus amongst the global football community over the last few years that Barcelona's Lionel Messi is the best player in the world - evidenced by four consecutive Ballon d'Or awards between 2009 and 2012.
On Sunday, Messi and Real Madrid's Cristiano Ronaldo will find themselves on the same pitch when the two teams meet in this season's second El Clasico.
Perhaps it is time to revise that perception and consider the possibility that Ronaldo is just as good as - or even better than - his eternal Argentine rival.
Firstly, it should be emphatically stated that Messi, although not currently operating at his absolute peak, remains a phenomenal, sublime, outrageously prolific performer.
Even during a disrupted season in which he has missed more than two months of action due to a series of hamstring injuries, he has still managed 33 goals in all competitions and boasts a La Liga goals-per-minute record (one every 89 minutes) only slightly inferior to Ronaldo's (a goal every 84.36 minutes).
Messi's enormous value to Barcelona has been highly evident recently, with an inspirational performance which secured his team's Champions League passage past Manchester City followed by a hat-trick in a 7-0 rout over Osasuna, making him Barca's all-time leading scorer.
But he has also delivered some notably indifferent performances in the last few weeks, and watching him on a regular basis has left an inescapable impression that the Messi of 2014 is a different beast - less mobile, less constantly involved in games, a little easier to shackle - from the irrepressible force who led his team to unprecedented levels of success.
Any Real Valladolid fans, for example, who happened to be watching Messi in action for the first time when their relegation-threatened team defeated a lifeless and toothless Barca 1-0 earlier this month would have left the Estadio Jose Zorrilla wondering exactly what all the fuss is about.
Of course, no meaningful conclusions can be drawn from one game or even one season, and it is too early to judge whether Messi's hamstring problems of the last few months are fully behind him or if it will become a recurring issue which significantly lessens his productivity over the remainder of his career.
Samuel Marsden, a journalist for Barcelona-based newspaper Sport, believes Messi will gradually return to his astronomical former heights, telling BBC Sport: "He's certainly down from his previous standards this season, but a lot of that is to do with his injuries.
"When he came back in January he still had some fitness problems. He looked withdrawn and seemed to be playing within himself, but there have been a few signs recently that he is coming back to his best and could do something special before the end of the season."
There is also a tactical element to Messi's (relative) dip in form, with opposing teams now better equipped to counteract his unusual 'false nine' deep-lying forward role.
With stalwarts Carles Puyol and Victor Valdes leaving the Nou Camp at the end of the season and Xavi a gradually declining force, Barca can no longer cling to their past glories. The extent to which the Catalan club re-emerge from their transitional phase with a new identity will be a key factor in the ongoing Messi story.
While the Argentine has endured a fragmented campaign, Ronaldo has been going from strength to strength, leading this season's scoring charts in both La Liga and the Champions League as well as almost single-handedly securing Portugal's place in the World Cup finals with a breathtaking play-off performance against Sweden - not to mention claiming his second Ballon d'Or award in January.

Real Madrid TV presenter Phil Kitromilides says Ronaldo's consistent excellence since arriving from Manchester United in 2009 has finally earned recognition from the team's notoriously hard-to-please supporters. "The Bernabeu fans now chant his name every game," he said. "That might sound obvious, but for the first few years of his time at Madrid, they did not.
"I think the last 18 months or so have been Cristiano's best. He has matured and we have seen him giving a lot more assists, dismantling the theory that he is a 'selfish' player. Having endeared himself to the most demanding fans in the world shows just how good he has been."
Of course, Ronaldo is good - very good. But is he better than Messi?
Marsden laughs at the suggestion Barca fans might accept that proposition, explaining: "They regard Leo as the best of all time, not just the best player at the moment.
"Even when the Ballon d'Or was announced in January, people were very emotional about it - they just couldn't bring themselves to accept the idea that Ronaldo had been the better player last year."
When making direct comparisons between the two players, however, it's certainly possible to construct a convincing case in the Portuguese star's favour.
Ronaldo is physically more impressive and arguably possesses a wider skill-set than Barca's number 10, being capable of generating astonishing power and accuracy with both feet and also boasting phenomenal aerial ability, whereas Messi scores nearly all his goals with his magical left foot.
Statistically, Ronaldo has chalked up a better La Liga goalscoring record than Messi - even though he played for an inferior team during much of that period - with his goals-per-game tally (171 in 159 appearances) significantly stronger than the Argentine's total of 233 goals in 267 outings.
Another factor in Ronaldo's favour is his sensational form this season despite playing under a new manager. During Jose Mourinho's reign, there was an impression that the team's counter-attacking style was designed to maximise Ronaldo's strengths - indeed, Mourinho stated so himself - and that the forward may prove less successful in a different environment.
Those fears, however, have been completely shattered by Ronaldo's ongoing brilliance under new boss Carlo Ancelotti, who has instigated an open, possession-based game which is far less obviously suited to his team's star player but has done nothing to diminish his productivity.
Having enjoyed the privileged position of watching Ronaldo from close quarters on a regular basis, Kitromilides believes the Portuguese star's intense ambition will ensure he isn't finished yet, saying: "His work ethic is quite astounding and what I love about him is that he is the best, but he still wants to be better.
"I watch the players train a lot and Cristiano is just relentless. He is extremely competitive and sometimes if he misses a shot or a decision doesn't go his way he shows his frustration, which some people construe as petulance.
"But you cannot just switch off the desire to win. It is deep rooted inside him and actually I think it is something he is quite proud of."
Messi, of course, is just as driven as Ronaldo, with his unquenchable appetite for scoring goals a key aspect of his success. And the two players are also mightily motivated by their ambitions to be recognised as the best in the world, with their fierce personal rivalry - rarely explicitly acknowledged but always looming in the background - undoubtedly serving to push them both to greater heights.
Ultimately, any qualitative discussion over footballers is bound to be somewhat subjective. Messi and Ronaldo possess different attributes, different playing styles and different personalities - deciding which of the two is more admirable can only be, at least partly, a matter of personal taste.
Perhaps, then, rather than worrying about which of these two magnificent players is 'better', followers of Spanish football should simply be grateful for the opportunity to watch two all-time greats competing in the same league at the same time.
On Sunday, Real will attempt to gain a victory which would establish a dominant position in the title race, while Barca need the points to reignite their hopes.
Whatever happens, it is inevitable that Ronaldo and Messi will play fundamental roles in determining the outcome.
May the best man win.
HEAD-TO-HEAD

RONALDO

MESSI

--------------------------------

2009-11

----------------------------------

29 (26)*

La Liga

35 (34)

6 (7)

Champions League

12 (8)

11 (1)

Others

17 (6)

None

Honours

La Liga, Spanish Super Cup, Uefa Super Cup, Fifa Club World Cup, Ballon d'Or

--------------------------------

2010-11

----------------------------------

34 (40)

La Liga

33 (31)

12 (6)

Champions League

13 (12)

13 (10)

Others

20 (14)

Spanish Cup

Honours

La Liga, Champions League, Spanish Super Cup, Ballon d'Or

--------------------------------

2011-12

----------------------------------

38 (46)

La Liga

37 (50)

10 (10)

Champions League

12 (15)

21 (13)

Others

20 (17)

La Liga

Honours

Spanish Cup, Spanish Super Cup, Uefa Super Cup, Fifa Club World Cup, Ballon d'Or

--------------------------------

2012-13

----------------------------------

34 (34)

La Liga

32 (46)

12 (12)

Champions League

11 (8)

18 (13)

Others

19 (15)

Spanish Super Cup

Honours

La Liga, Ballon d'Or

--------------------------------

2013-14

----------------------------------

24 (25)

La Liga

21 (18)

7 (13)

Champions League

5 (8)

12 (13)

Others

9 (7)

Ballon d'Or

Honours

Spanish Super Cup

*appearances (goals) - statistics since Ronaldo arrived in Spain (goals from all competitive games, club and country)