Plymouth Argyle must keep momentum going - John Sheridan
Last updated on .From the section Football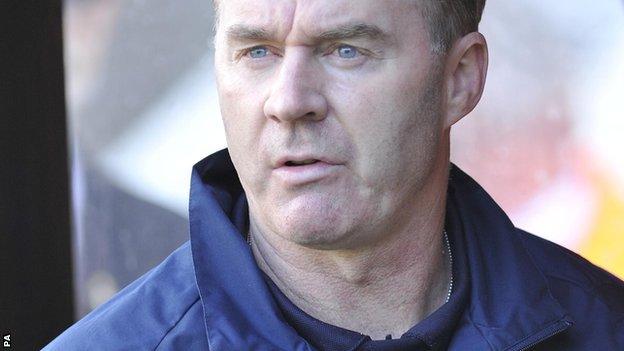 Plymouth Argyle boss John Sheridan says his side have got to keep their rich vein of form going after edging into the play-off places.
Argyle are one of League Two's form sides with six wins from their last nine games, including Tuesday's 2-1 win over leaders Chesterfield.
"If we keep to that standard, we'll win more games than we lose," he said.
"We've got to carry on the momentum. There's 10 games left and we know what we've got to do."
Argyle have moved into seventh place in the table after spending much of the season in the bottom half of the table.
"I don't want to be middle of the table," he added.
"It's a step up from last season and that's what I've come in to try to do: to improve.
"And if we can make the play-offs then great - it gives us a chance to get out of the league which is what we want to do."
Reuben Reid was in outstanding form for the Pilgrims, scoring both goals against the Spireites at Home Park to take his tally for the season to 18.
"He could have had a hat-trick and we were always lively on the break with our pace," said Sheridan.
"We defended when we had to defend but we created all the opportunities and were well-deserved winners. We looked a fit a team, we never say die and we've done that a few times this season.
"It was a great result and a great performance - the desire and work ethic to get the three points we were after was brilliant."
Sheridan said the team's ability to move the ball quickly was the key to their success against Chesterfield.
"It's not because we've got the quickest players in the league - it's about making the ball do the work," he added.
"There's no player who's quicker than the ball and we look good when we do it. It annoys me when we take five or six touches because it's not what we're good at.
"It's the players who deserve all the credit. They take the grief when they lose so I want to praise them to the hilt."