David Moyes: Man Utd comeback gives respite to manager

By Phil McNulty
Chief football writer
Last updated on .From the section Football1123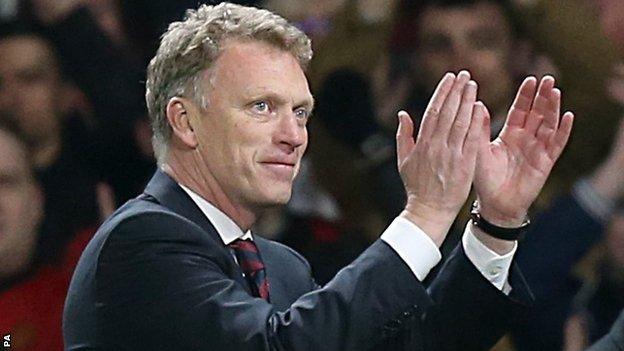 David Moyes has not had many to choose from - but the sprint towards the Stretford End at the interval and a beaming smile at the final whistle marked this down as his best 90 minutes as Manchester United manager.
It had to be because anything other than a passage into the Champions League quarter-finals by beating a mediocre Olympiakos would have increased the pressure on his position at Old Trafford.
United and Moyes rose to the challenge of hauling in Olympiakos's two-goal first leg lead courtesy of Robin van Persie's hat-trick but the simple fact that they found themselves in a perilous position against such a limited team tells the grim tale of their season.
Moyes resorted to a tried and trusted default position by suggesting his recent strife at Old Trafford was a media invention when a straw poll of United's fans would have informed him of the concerns among many about his suitability as Sir Alex Ferguson's successor.
And that is why there will have been relief mixed with his elation at leading United into the last eight and keeping hopes of success alive, despite it taking a huge leap of the imagination to believe they will actually end up winning the Champions League.
United's win releases the pressure valve but only temporarily. Should Manchester City pitch up at Old Trafford next Tuesday and treat them with the same contempt as Liverpool did in the 3-0 loss on Sunday the questions surrounding Moyes will return.
Moyes has had plenty of criticism this season so it would be unfair not to give him credit where it is due. This was the response required from both him and his players after they were embarrassed by Brendan Rodgers's side.
From the first whistle Moyes's body language and demeanour was more brisk and businesslike than it was on Sunday when he (rather like his most of his players) looked like an idle bystander unable to influence events as they escaped United's control.
As on Sunday, the manager was mirrored by his team but this time United found something of their old selves, the symbol of this rediscovery being Van Persie, who finally looked like the world-class striker whose goals smoothed a route to the Premier League title last season.
There were even signs of an understanding between Van Persie and Wayne Rooney, especially when they collaborated for his second goal. There was a verve and tempo about United as a whole that at least provided some shafts of optimism amid the general gloom of this campaign.
And in selecting 40-year-old Ryan Giggs, Moyes got another key decision right. The pace of yore may have long gone but the speed of thought and accuracy of pass remains. This made him United's best player as he had a hand in the first two goals and dictated terms to Olympiakos.
This was a night that started with rumours - incorrect as it turned out - that a banner draped over the Stretford End since the start of the season anointing Moyes as "The Chosen One" was to be removed in reaction to performances like that against Liverpool and the first leg loss in Greece that left United at risk of elimination here.

Old Trafford's disc jockey even appeared to making a comment on the current state of affairs by playing Led Zeppelin's classic "Good Times Bad Times" just before kick-off - although those of us with long memories and even older vinyl collections wondered if "Dazed And Confused" might have been a better choice.
It all turned out nicely for Moyes and United in the end but he was relatively modest about the feat, especially as there is plenty to be modest about at Old Trafford this season.
Moyes also resisted the temptation to announce this would be the start of something bigger and better, shielded against this belief by a high number of false starts this season.
And for all the euphoria at the final whistle it is right to provide some sobering context, not just to Wednesday night but for anyone tempted (and there were precious few actually) to suggest a watershed point had been reached.
Even Moyes himself would surely not believe one win, no matter how creditable or important this was, can go anywhere near papering over the cracks so brutally exposed in games such as the first leg in Athens or by a resurgent Liverpool.
Olympiakos are not a European superpower and have lost on each of their dozen visits to England. Those looking for omens, however, may recall how a Liverpool side struggling in the Premier League overcame them in a final group game in December 2004 with a comeback that led to their 2005 Champions League win.
The outcome of this tie may have hinged on events moments before half-time when United keeper David de Gea pulled off a magnificent double save from David Fuster and Alejandro Dominguez just before Van Persie made it 2-0.
These are the fine margins Moyes is operating within. On Wednesday he came down on the right side but it was still too close for comfort.
United looked horribly vulnerable to the pace of Olympiakos when they got it right on the break - only increasing the conviction that they will be exposed by the higher calibre of opposition they will meet in the next round.
Moyes insists he has felt no pressure from above at Old Trafford while the hierarchy insisted their position had not changed after Sunday. They will all hope this win provides respite.
The evidence of United's season so far, however, is of one step forward, two steps back and Moyes simply cannot afford a repeat as they prepare to visit West Ham United then face City in the Manchester derby.
Moyes will exercise caution - but after so many miserable moments this season he fully deserved his finest night since taking over from Ferguson.