Casey Stoney on England, Europe & Toni Duggan racism row
Last updated on .From the section Football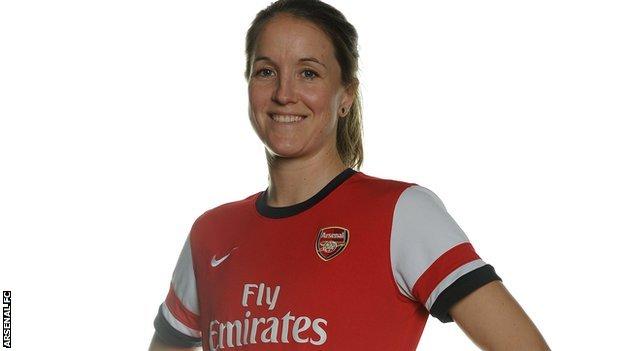 England captain and Arsenal Ladies defender Casey Stoney is writing a regular column for the BBC Sport website this season.
In her first column of the new season the 31-year-old talks about England's Cyprus Cup campaign, the racism controversy surrounding Toni Duggan and the all-English Champions League tie on Monday.
One of the reasons I re-signed for Arsenal in the winter was to hear the Champions League music before a game and I am looking forward to making my return in a pressurised match where important trophies are at stake.
Although I played at this level when it was known as the Uefa Cup at the start of my career and the first time I played for the Gunners, a lot has changed in women's football since then and the first leg of our quarter-final against Birmingham on Monday will effectively be my Champions League debut.
The significance of doing well is enhanced by Arsenal missing out on qualification for next season's competition. So, like Manchester United in the men's game, the only way we can play in it next season is to win it this time around.
We can't think about that before the Birmingham game. Our sole focus is getting through to the semi-finals against a team that will know us very well from our domestic battles. They will be without England internationals Laura Bassett, Rachel Williams and Rachel Unitt, who have signed for other teams but we will be missing injured midfielder Jordan Nobbs.
Since moving from Lincoln to Arsenal in January, I have been recovering from a foot operation but I am fully fit now and looking forward to playing for a team that has won the Uefa Cup in 2007, the league 14 times and the FA Cup 12 times. The expectancy here is to win trophies, which I haven't experienced for a few years.
Training alongside England's record goalscorer Kelly Smith, some of the younger players and our new Japanese international signings Shinobu Ohno and Yukari Kinga is keeping me on my toes and I feel like I have already improved, even before the season starts. The fact we are training every day is also having an impact.
It's fantastic to be in a team where you give the ball to someone else and just watch how good the players are in front of you. Some of the football they play is absolutely incredible and it's a pleasure to be part of.
Relief to be back in England squad
It has been frustrating not being involved with England at the Cyprus Cup because of my injury but it is a huge relief to be named in the squad for April's 2015 World Cup qualifier against Montenegro.
Although England lost in the final to France, all the feedback I've heard is that the camp was really positive and you don't want to be away from the squad for too long, particularly with new manager Mark Sampson on board.
I realise there are young players coming through but there is no way I am just going to stand aside and let somebody take my place without a fight.
From what I hear from the other players, there is a fresh approach under Mark, where the focus is on quality and intensity rather than necessarily training twice a day like we used to under previous boss Hope Powell.
The players feel like it is more relaxed, not that they aren't working hard, but maybe that they can have an input as well.
I have not been in a camp under Mark yet but I'm told that the concentration is on what we do with the ball. With Hope it wasn't that we only focussed on the opposition, but she would leave no stone unturned. She would make sure absolutely everything was covered.
Hopefully we can take that positivity into our World Cup qualifying campaign and continue to build our momentum after a perfect start.
We won our first four games, scoring 20 goals and conceding none, but we won't be complacent. Competition for places is very healthy and everyone is looking over their shoulders thinking "I can't afford to have a bad performance".
Toni Duggan is no racist
One other story that was picked up by the media during the Cyprus Cup surrounded striker Toni Duggan, who attended a fancy dress party dressed as Whoopi Goldberg.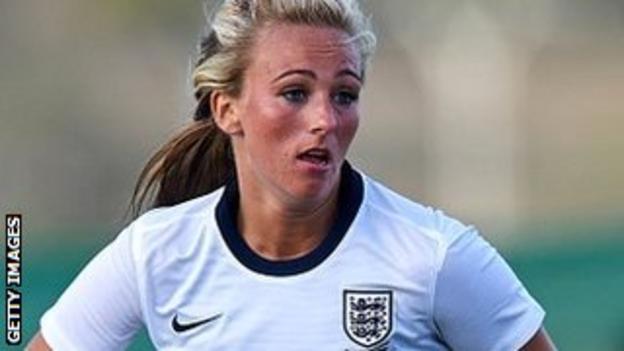 I was surprised that it made news and would prefer the media to concentrate on our results but I know Toni very well and know she would not have meant to offend anyone.
Perhaps it was something that wasn't thought through and she has apologised. It wouldn't have been meant in a racist way whatsoever, but as players we have a responsibility to be more aware of all our actions and the fact we are being scrutinised more heavily.
We have to accept that because that is what we are asking for as the women's game grows. We want people to take notice of women's football, write about us in the newspapers and feature us on TV.
With that comes the scrutiny and the responsibility to make sure we are leading by example and being good role models.