Man Utd v Olympiakos: Reaction from experts, media and fans
Last updated on .From the section Football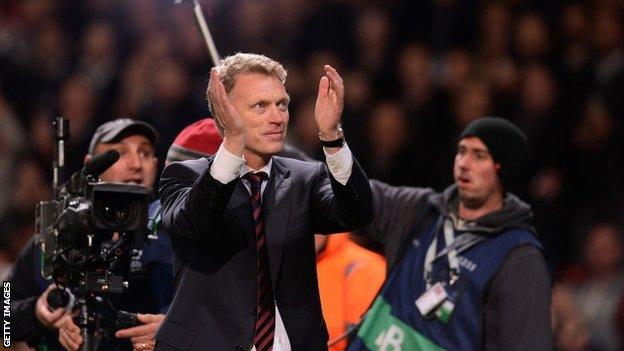 Manchester United came into the second leg of their Champions League last-16 tie with Olympiakos two goals down and, according to some media reports, within three games of a change of manager.
Former players, top football writers and United fans analyse what the result means for both the boss and his club.
The players' view: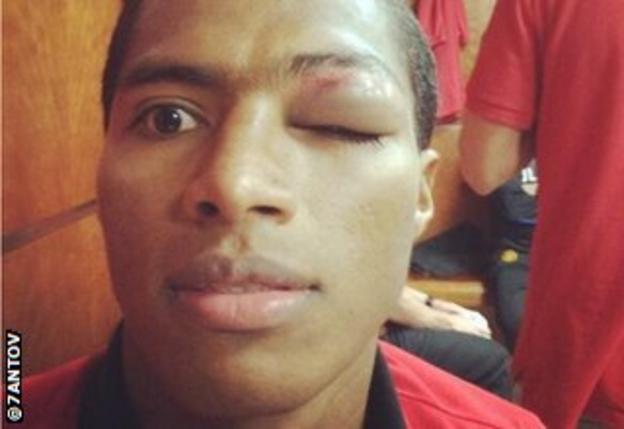 Manchester United striker Wayne Rooney on Twitter: "Great performance from the lads and another brilliant atmosphere at Old Trafford. That one was for the fans!"
Manchester United winger Antonio Valencia, who suffered a black eye during the game, on Twitter: "This is nothing for the joy that Manchester has given me."
Cup-tied United midfielder Juan Mata: "What a comeback!! Great team effort!!"
The expert view:
Former Liverpool defender and European Cup winner Mark Lawrenson on BBC Radio 5 live: "I think Manchester United are probably eighth in terms of ranking the quarter-finalists, but they will take that.
"The top four in the Premier League is gone for them and the thing with the Champions League is that they can just have a go and enjoy it now.
"The financial men have been at Old Trafford for the match and they are thinking: 'How much money do we need to give David Moyes in the summer and do we trust him with the money?'
"They have a lot to do in the summer and without Champions League football, they will have to pay a premium to attract the best."
BBC sports editor David Bond: "It tells you something about how fast and how far Manchester United have fallen that this win is so significant for them.
"Robin van Persie and Wayne Rooney stepped up and played and proved that they were willing and able to play for this manager.
"At the very least, this buys David Moyes more time to get things right at Old Trafford."
What the papers say
They can't sack Moy now - The Sun
RV3 - Daily Mirror
Robin's Rescue- Daily Star
Daily Telegraph football correspondent Henry Winter: "This summer is very important. It is a short transfer window because of the World Cup so they will have to do their business quickly.
"A positive - and a concern, arguably - is that their most impressive outfield player was a 40-year-old Ryan Giggs.
"They need a Bastian Schweinsteiger figure, a box-to-box player."
Daily Mail chief sports writer Martin Samuel: "There was an almost retro feel to this, a match and performance unlike any other in Moyes's brief time at the club.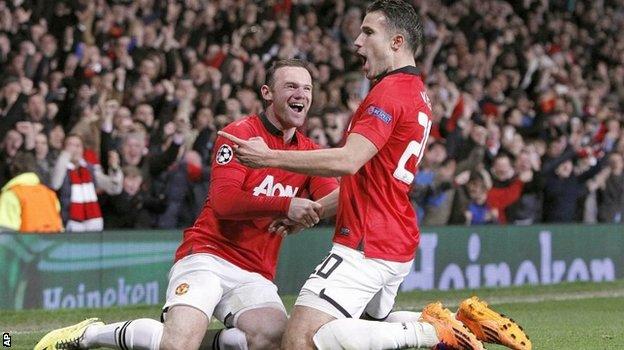 "This was United as they used to be - bold, brave, cavalier, the defence giving everyone kittens from time to time, the forwards making up for it with awesome levels of energy."
Daily Mirror chief sports writer Oliver Holt: "David Moyes is hanging in there. It is way too early to say a corner has been turned. But what made last night so critically important was that it allowed an embattled manager and his beleaguered players to feel like winners again."
The fans' opinion:
Manchester United fan Aaron on BBC Radio 5 live: "We played better than we have all season, going forward and playing a bit of creative football.
"Defensively, though, we need to watch out because we tend to sit back too much.
"I think that is partly because of the ethos of the manager and the quality of the defenders back there.
Manchester United fan Sean on BBC Radio 5 live: "I'm totally shocked. I expected United to get knocked out.
"It changes the mood, at least temporarily. But, whoever are we going to play in the next round, we are the definitely the underdogs."