Blatter and Platini questioned over Russia and Qatar World Cup bids
Last updated on .From the section 2014 Fifa World Cup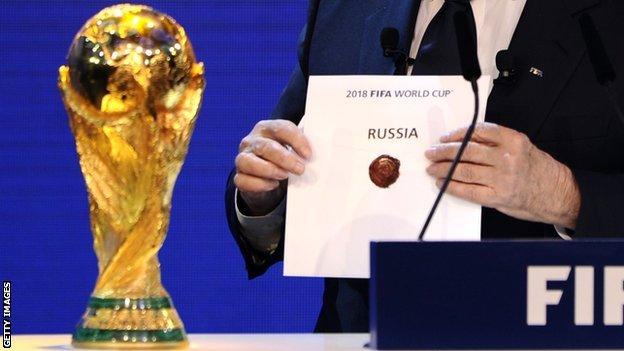 Fifa officials including Sepp Blatter and Michel Platini have been questioned about the awarding of the 2018 and 2022 World Cups to Russia and Qatar.
Blatter, president of world football's governing body and Platini, his counterpart at European body Uefa, took part in the vote in December 2010.
Fifa's chief investigator is examining claims of wrongdoing in the process.
In total, 13 members of the 24-strong committee who were involved in the vote have been questioned.
Some of those involved in the vote have retired, while others have either been banned or forced to resign after being found guilty of breaching Fifa's new ethics code.
The development is not thought to be connected to the Daily Telegraph's investigation into former Fifa executives Mohamed Bin Hammam and Jack Warner, who were among the people who decided to award the 2018 World Cup to Russia and the 2022 tournament to Qatar.
This week, the newspaper revealed that the FBI is looking into payments made by a company owned by former Qatari official Bin Hammam to Warner and members of his family shortly after voting had taken place.
Bin Hammam was banned from football for life in 2011 while Warner resigned in the same year.
They are no longer subject to Fifa's ethics code and cannot be disciplined by Garcia.
Having spent much of the last few months meeting officials from the 2018 and 2022 bidding nations, chief investigator Michael Garcia's decision to speak to members of Fifa's executive committee in Switzerland is seen by some as a significant turning point in his investigation.
It is not yet clear when the American lawyer's report, which will look into claims of corruption and collusion in the bidding process, will be published. Some insiders say it is unlikely to be before this summer's World Cup in Brazil.
Qatar's 2022 World Cup organising committee said its bid committee strictly adhered to Fifa's bidding regulations.