Premier League clubs warned over needs of disabled fans
Last updated on .From the section Football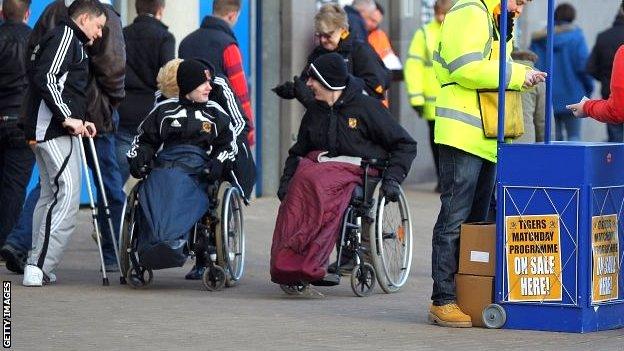 Urgent changes must be made to improve the experience of disabled fans at Premier League football grounds, a House of Lords committee has heard.
A BBC report revealed that only three top-flight stadiums provide the required number of wheelchair spaces.
"If football is to avoid having to face scores of claims for damages under the Equality Act, action is needed now," Lord Faulkner of Worcester insisted.
"It is not acceptable for clubs to neglect the needs of disabled fans."
The BBC report found that only Swansea, Southampton and Cardiff provide the required amount of spaces for disabled supporters.
It also revealed that eight of the 20 Premier League clubs fail to offer half the required number of spaces.
At three Premier League grounds - Upton Park, Villa Park and Anfield - limited wheelchair allocation resulted in opposing fans being placed together.
Current guidelines on how football clubs in the United Kingdom should cater for disabled spectators have been in place since the 2003 Accessible Stadia Guide (ASG).
Lord Faulkner, a vice-president of both the Football Conference and Level Playing Field, formerly known as the National Association of Disabled Supporters, addressed an Olympic and Paralympic Legacy committee debate on disabled supporters at football grounds.
"Taking all 92 professional football clubs into account, only 14 provide the minimum recommended number of wheelchair user spaces," he said.
"Many clubs offer only very few away spaces for wheelchair users, some as few as three.
"This is not good enough and something has to be done.
"First, there needs to be an access audit review into what has to be done at each ground to ensure that every club meets at least the minimum requirements of the ASG.
"A strict timetable must then be established for the implementation of the necessary work. This programme should be overseen by the Sports Grounds Safety Authority and funded, if necessary, by the Football Stadia Improvement Fund.
"However, given the amount of money within football today compared with 20 or so years ago and with clubs prepared to pay players up to £300,000 a week, it is not acceptable for the clubs to plead poverty and to continue to neglect the reasonable access needs of their disabled fans.
"They have had more than 20 years to make the necessary changes."
Former Paralympian Baroness Grey-Thompson, now a crossbench life peer in the House of Lords, said it was "completely unacceptable" for opposing disabled fans to be forced to sit together.
She also "strongly disagreed" with specialist pricing programmes and ticketing policies which she said would mean disabled fans were "further excluded from watching the sport they love".