Mick McCarthy: Ipswich Town boss expects victims of FFP rules
Last updated on .From the section Ipswich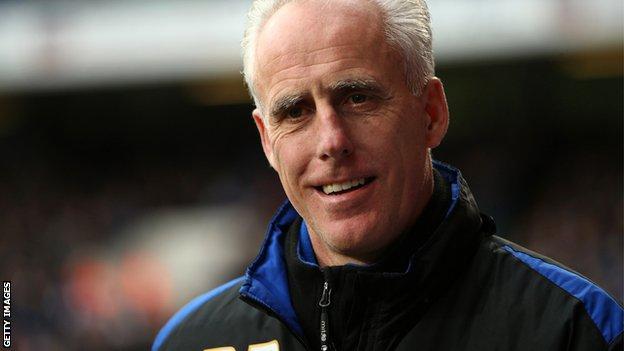 Ipswich Town boss Mick McCarthy says he expects some Championship clubs to fall foul of the Financial Fair Play rules.
From this season, Championship sides must operate with losses of less than £3m - although they can go up to £8m if the owner can plug the £5m shortfall.
"Financial Fair Play is there for everybody to supposedly adhere to," McCarthy told BBC Late Kick Off East.
"We're adhering to Financial Fair Play. I'm not sure everyone else is. In fact I'm damn sure not everybody else is."
Championship sides who fail to meet the financial requirements for the 2013-14 season will face a transfer embargo or, if they win promotion to the Premier League, a fine which will be donated to charity via the Football League.
Clubs do not have to reveal their accounts for this season until December.
But QPR, fourth in the Championship, face a tough task if they are to bring their finances in line after recording a £65m loss for the 2012-13 accounting period.
Ipswich, themselves, have been trying to cut their yearly loss with the most recent figures released, from 2012-13, showing a £9.7m deficit.
The Suffolk club, who are six points adrift of the play-offs, have only invested in free transfer and loan signings this season.
"People say we haven't spent anything but I reckon Marcus has put £5m of his own dough in just to keep us where we are," said McCarthy.
"Within those parameters, we've done well.
"I get frustrated at times and think we could do better, but it's not down to the funding.
"I'm reading that QPR and a few others could be having a huge fine. I'd like to see it and I'd like to know who's going to take the money and where it's going.
"We're sticking to it and, within it, we're doing really well.
"We've had some really good signings as well, bearing in mind they were Bosman signings - they've come in and given some really good performances."