Swansea City reputations on the line, says Garry Monk
Last updated on .From the section Football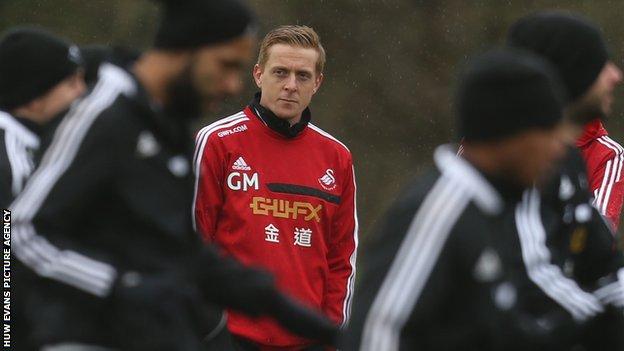 Head coach Garry Monk says the reputations of his Swansea City players are on the line as they fight for Premier League survival.
The Swans face Everton on Saturday four points above the relegation zone.
"Reputations are on the line, not just us as a club or me as a manager, but them as players," said Monk.
Midfielders Jonjo Shelvey and Nathan Dyer return from injury and are set to join striker Michu in the Swans squad for Goodison Park.
Shelvey has been out for almost a month with hamstring trouble, while Dyer missed last weekend's 2-1 defeat by West Bromwich Albion because of a heel injury.
Spanish striker Michu gave the Swans a boost when he returned to action off the bench against West Brom following a 17-game injury absence.
But Swansea have still not had a league win since beating Cardiff 3-0 at the Liberty Stadium in February.
They are five places, but four points above the relegation zone and Monk said: "I've got no question at all over the players that are here.
"At the end of the day they realise what's at stake for themselves. Their attitude has been spot on, working very well again this week and they want to do well.
"When you get questioned, you tend to get a reaction and hopefully that's the case this weekend."
Monk says West Brom showed them what it is like to be a team fighting for survival in the Premier League, but he still believes the Swans are in control of their own destiny.
"The good thing for us is it's in our hands," said Monk.
"We are not chasing to try and make up points. It is upon us to make sure we fight for every single point.
"Everyone always talks about the 40-point [safety] mark, but a lot of the teams have to play each other. A lot will drop points and a lot will get points.
"You have to be honest with people. I told them after the game [against West Brom] what I felt. They are all in it together and pushing each other.
"I am more than confident that in the coming games we will earn enough points to achieve what we want to achieve."
Swansea, who were knocked out of the FA Cup by Everton earlier this season, have never beaten the Merseyside club, and Saturday's clash sees a return appointment with their former manager Roberto Martinez.