Will Packwood: Birmingham City rookie fit to fulfil American dream
Last updated on .From the section Football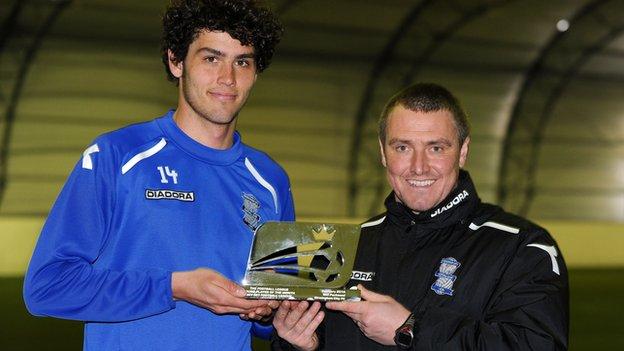 Will Packwood freely admits he is among the outsiders as a contender for this summer's World Cup in Brazil.
But Birmingham City's 20-year-old defender also knows he is a lot closer to achieving that American dream than he was the cold January day in West Yorkshire last year when his fledgling career appeared to lie in ruins.
Packwood, newly established in Lee Clark's team, was playing out of position at right-back in only his seventh game for the club when, in an FA Cup third-round tie against Leeds United, he suffered a double leg break - fracturing both his tibia and fibula.
It was a career-threatening injury for the young man from Massachusetts, described by his own manager as "horrendous".
Yet, nine months later, he was back playing football again - out on loan with Bristol Rovers.
And, having proved his fitness in League Two, since returning to St Andrew's, he has established himself as a regular in the Championship, producing sufficiently consistent performances to earn the accolade of Football League Young Player of the Month for March.
A far cry from how it felt - and just how much it hurt - that Saturday night in Leeds General Hospital.
"It was a little sore," recalls Packwood with a grimace. "They gave me just about everything under the sun.
"I didn't know how bad it was. My first thought was 'what does this mean?' I could tell it wasn't good. Was it the end of my career? Until I had a time frame for my recovery, I definitely felt very tense."
Birmingham manager Clark recalls: "It was certainly career-threatening. I heard our own club doctor being quoted as saying that. His fibula and tibia were fractured and shattered in different places.
"It just shows his professionalism, his desire and courage. Since he came back, he has gone into his regular position at centre-half and performed admirably. He's a good pro with a great attitude.
"If ever players are put up for these awards, you want the ones that work hard at their game and are good examples and Will's certainly that."
Boston-born Packwood, in fact, has been setting a good example to others ever since he arrived in English football at the age of 14.
He already had English roots; his dad was from Solihull and a Birmingham City supporter.
But to fulfil his ambition of becoming a footballer, Packwood had to leave home to become a fee-paying boarding school pupil at nearby Bromsgrove School, while simultaneously enrolling in the Blues Academy at Wast Hills, on the south side of Birmingham.
"I enjoyed my youth soccer in the States," he said. "I had a couple of call-ups to very young national teams, which was all very informal at that age. But I knew I could play.
"When I realised there was a chance it could become a career, I was lucky for that to happen.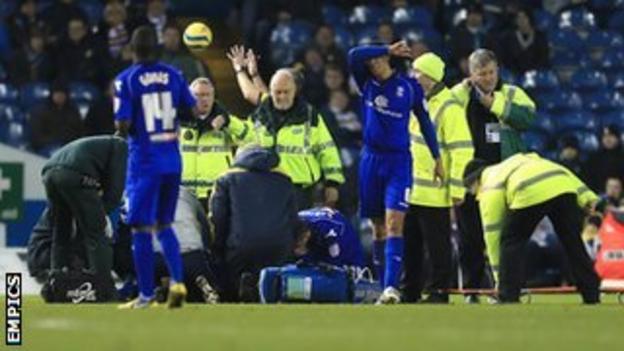 "My dad was a Blues fan. But, at the end of the day, it was my decision and the family have supported me through it.
"The one thing my family insisted was that I got my qualifications, just in case it did pan out as a footballer.
"I did my GCSEs and A levels, although football was the number one priority, but I'm now doing an online degree in maths and finance.
"I filled in lessons around training. I'd come here to Wast Hills in the morning and train. On the days there was only one training session, I could go back to school and do lessons in the afternoon, but I could also do one-to-one lessons with teachers in the evening. Living at the school makes it easier as the teachers are often there quite late."
A contemporary of Worcestershire cricketer Ben Cox, Packwood could yet prove to be the most famous alumni from a sport-orientated school that has already produced three England rugby players - Andy Goode, Ben Foden and Matt Mullan.
Not that Packwood was allowed to play for the school, as his Blues commitments were simply too time consuming.
After a patient wait, he finally got his chance in a 5-1 League Cup first-round win over Barnet - Clark's first game in charge - in August 2012.
"For every youth player there is frustration," he concedes. "But there are more opportunities here than most for young players.
"You never know when your chance is going to come. The only thing you can do is be ready for it when it does."
Packwood's career was then put on hold for the best part of a year by that injury at Leeds. But the rehabilitation, which began under Rovers boss John Ward, is now complete.
"I'm very grateful to Bristol Rovers," adds Packwood. "They took a bit of a chance. It's not easy to take a young player coming off a major injury and put him in a League Two scrap.
"There was always that doubt as to whether I could not only get back to where I was but to continue improving too, but it's gone well."
Having been included in the most recent United States senior squad, Packwood knows there is a chance that continued solid form in the Championship may not go unnoticed. But he makes it quite clear that Blues' safety, with them currently standing just five points clear of trouble, is his only short-term concern.
"I'm 100% focused on that," he said. "Come the end of the season, we'll see what happens.
"But, first and foremost, there's 10 games left. At this point they're all cup finals. That's the way it is.
"We're far too close for comfort to the bottom end of the Championship. But we know it's in our hands. If we win games, it won't be a problem and we know we can do that."
And, if Blues do stay up, and Packwood was summoned for a trip to Brazil, is there any chance his English roots might tempt him to wait for Roy Hodgson's call?
"England have never called me," he grins. "But I've been with the US ever since I was 14 and played for almost everyone of their age groups. It would be very unfair to change now."