Michu a 'massive player' for Swansea City, says Garry Monk
Last updated on .From the section Football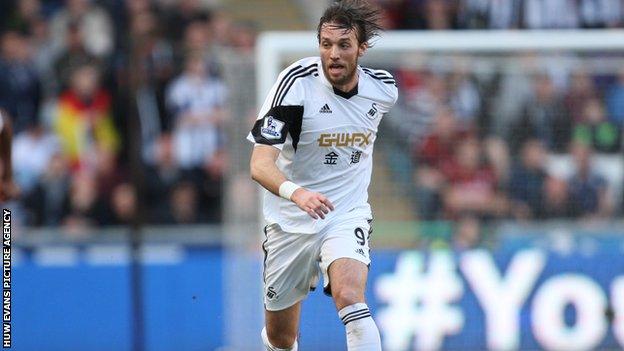 Swansea boss Garry Monk says they will have a focused Michu ready to lead their attack in the battle to avoid Premier League relegation.
Swansea are currently just four points above the drop zone and Monk knows they need a fit Michu back.
"He wants to do well for the club and for himself, and he wants to push on," he said.
"He wants to be out there scoring goals, and that's what drives him.
"Had you seen him this week, you wouldn't have thought he was thinking about anything but doing well for the club.
"He is pain-free now, pushing himself in training, and that gives everyone else a lift.
"I can't just chuck him in there and expect him to do what we all know he can do.
"You just have to see what games we have got and see which games suit him, and go from there.
"I think it is trying to get Michu up to the level where he is ready to play properly.
"If we chuck in a half-fit Michu, and you have other players who are fully fit, it's poor towards the rest of the squad.
"But I understand his quality, and he is a massive player for us."
Midfielder Jonjo Shelvey and Nathan Dyer are set to join Michu in being part of the squad for Saturday's game against Everton at Goodison Park.
Shelvey has been out for almost a month with hamstring trouble, while Dyer missed the West Brom game due to a heel injury.
The prospect of Michu linking up again with an in-form Wilfried Bony has been on hold since December, but Monk says the pair could hold the key for the Swans.
"They have the quality to score goals. They are a handful in their own rights," Monk added.
"The more you have in your team like that, the better it is for you.
"Visually for the team, to see two strikers in training and battling for what they want to do and do well, is good for the squad."
Swansea have not won in the Premier League since the 3-0 win against Cardiff in February.
Last Saturday's home defeat against West Brom leaves them still within reach of the bottom three clubs.