Gareth Bale hindered by record Real Madrid fee - Calderon
Last updated on .From the section Welsh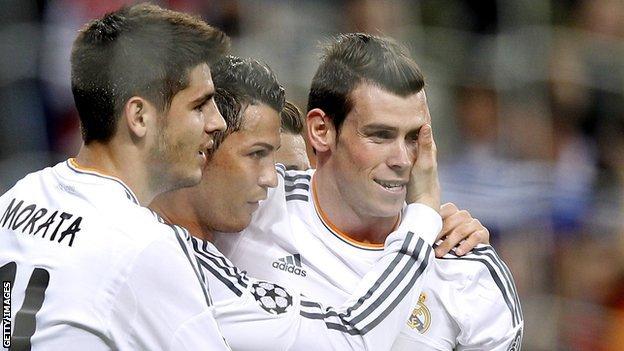 Former Real Madrid president Ramon Calderon believes Gareth Bale is playing under the hindrance of his £85m world-record transfer.
But Calderon says Bale, 24, is improving and expects him to succeed.
Cristiano Ronaldo joined for £80m under Calderon, who says Bale is being compared with the Portuguese player.
"Apart from the 11 [on his shirt], he has got 100m Euros and that weighs a lot from the point of view of the followers," Calderon said.
Bale and his team-mates host Barcelona in La Liga on Sunday, one of the most eagerly-anticipated football fixtures of any European season.
He will go into the encounter having scored 14 goals in 31 appearances with all of his efforts having come in the 24 matches he has started.
Calderon says being more expensive than Ronaldo has led to Bale facing inevitable comparisons with the player who remains in many fans eyes their star player.
The club's former president says Zinedine Zidane was booed by fans six months after his arrival from Juventus in a then-record £45.8m move in 2001.
"You have to take into account that Zidane was booed here six months after coming to play with Real because people thought that he wasn't the good player they expected," said Calderon, the Real Madrid president from 2006-09.
"And after that he's been one of the icons of the club. The fans really loved him.
"And they really like him and he is now with Real Madrid and involved in the club.
"And it's true - we are very demanding."
Calderon also signed Kaka in 2009, but the Brazilian's world record £56m fee was soon overtaken by Ronaldo's arrival a little over two weeks later.
And Calderon said that while signing Kaka was a mistake, Bale can be compared more favourably to Ronaldo than the Brazilian.
"But always the problem is to be compared with Cristiano and no-one at the moment can dare to be even closer to him and that's a problem," added Calderon.
"Now everyone knows that for Bale we paid 100 [million Euros] and something and for Cristiano 94m Euros - exactly £80m - so Cristiano is not everything [financially].
"It's a handicap [for Bale]. It's what I said when he came here: it's going to be a problem knowing for the fans that at the top of the number on the back, apart from the 11 he has got 100m Euros and that weighs a lot from the point of view of the followers.
"But I think he is doing well, as I said. He's little by little improving. He's playing well. He's scoring.
"I think one of the main things for a player coming to Real Madrid is have a strong mind. I'm sure he's going to succeed here."
Watch Sport Wales' profile of Real Madrid's Welsh star Gareth Bale on Friday, 21 March on BBC Two Wales from 21:00 GMT.