Manchester derby: Robbie Savage picks his dream and nightmare XIs

By Robbie Savage
BBC football pundit
Last updated on .From the section Football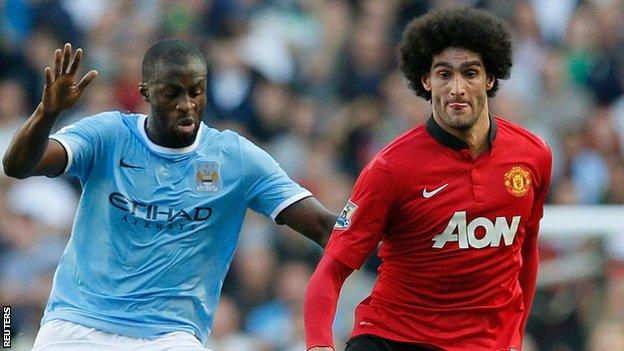 Manchester United won the Premier League title by 11 points from rivals Manchester City last season - but 12 months on and it's a completely different story.
City are the dominant force in Manchester this season and on the eve of Tuesday's derby meeting at Old Trafford I have picked two XIs that illustrate the two teams' contrasting fortunes.
Only three United players have made my 'Manchester dream team' based on this season's form and there are only two City players in 'Manchester's under-performers'.
Who has made each team? Read on to find out.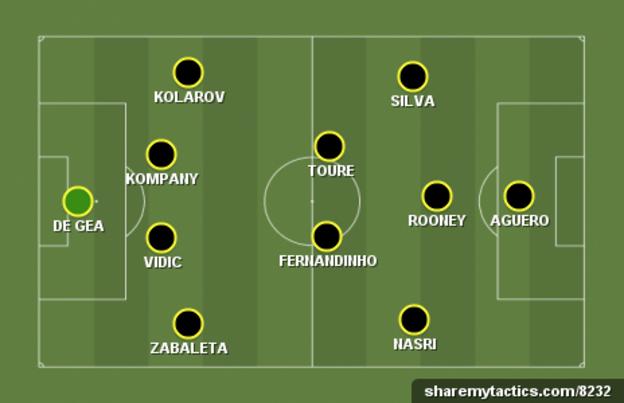 My Manchester dream team
David De Gea (Man Utd); Pablo Zabaleta (Man City), Nemanja Vidic (Man Utd), Vincent Kompany, Aleksandar Kolarov; Fernandinho, Yaya Toure; Samir Nasri (all Man City), Wayne Rooney (Man Utd), David Silva; Sergio Aguero (both Man City).
Manchester United goalkeeper David De Gea's double save against Olympiakos last week was superb and it kept his side in the Champions League. He has made crucial saves this season and is developing into a big-game player. He's improved season by season and is much more physical now. When he first came to the Premier League he struggled against the high ball but you don't see that any more. He's a brilliant goalkeeper and will be for years to come.
De Gea has kept four clean sheets in his past five Premier League games
Pablo Zabaleta picks himself. Is there a better right-back in the league? Going forward and defensively he is excellent and never lets his side down.
Zabaleta has seven Premier League assists since the start of last season
What would City do without Vincent Kompany? An outstanding defender who gave one of the best centre-half performances I've seen against Barcelona in the Nou Camp recently.
Since the start of City's title-winning season in 2011-12, they have lost only nine of 75 games when Kompany has played, compared with seven of 29 when he hasn't
I struggled to pick a man to partner Kompany in this team. Jonny Evans has done all right this season but never really convinces, so even though his best days are behind him and he is leaving United in the summer I'd pick Nemanja Vidic. He has leadership skills, he gets his head in, shows great desire and he's a threat from corners at the other end.
Of players to play 200 or more games in the Premier League, Vidic has the best win percentage (71%)
Aleksandar Kolarov has improved a lot this year. He is a real threat getting forward from full-back, his set-piece delivery is superb and he has raised his game defensively too.

Kolarov is level with Zabaleta as the two defenders with the most assists this season (5)
In midfield, Fernandinho cost City a lot of money - around £34m - but, unlike Marouane Fellaini at Old Trafford, he has imposed himself on the Premier League. He has so much energy, he covers the ground and helps the team going forward too. He has come to the fore in the past few months and City really missed him when he couldn't play against Chelsea last month.
City have failed to score in four of the five Premier League games that Fernandinho has missed this season
Fernandinho's worth can also be seen when you look at the difference he has made to Yaya Toure. He has freed up the Ivorian to be a more attacking threat, and they both scored against Fulham at the weekend. The big man has now scored 16 goals in 27 Premier League games this term, which is a fantastic return from midfield. He also comes up with big goals in big games. Look at his goal in the Capital One Cup final. Brilliant.
Toure has scored with nine of the 11 dead-ball shots (penalties & direct free-kicks) that he has had in the Premier League this season
Samir Nasri has surprised a few people this season. He has the desire back and looks like the player who was so good at Arsenal, while David Silva remains a class act but needs to score more goals.

Nasri's six 'pre-assists' (the pass preceding a goal assist) are more than any other player in the top flight this season, while Silva has assisted more goals (38) than any other player in the period he has played in the Premier League (2010-present)
Wayne Rooney started the season so well - scoring 10 goals by Christmas and getting his new contract - and now he has to lead by example. He will be a massive player for United next season, when he could well be captain, and United need him to inspire those around him. He is one of only three United players in this team and gets the nod ahead of Alvaro Negredo because of his all-round game. His goal at West Ham didn't do him any harm either!
Rooney has scored and assisted 10 or more goals this term for the fifth time in a Premier League season, more than any other player in the competition's history
Sergio Aguero has been superb when fit and may well be the best finisher in the Premier League. Give this man a chance and he will score.
Of players with 50 or more Premier League goals, Aguero has the best minutes-per-goal rate (115 mins)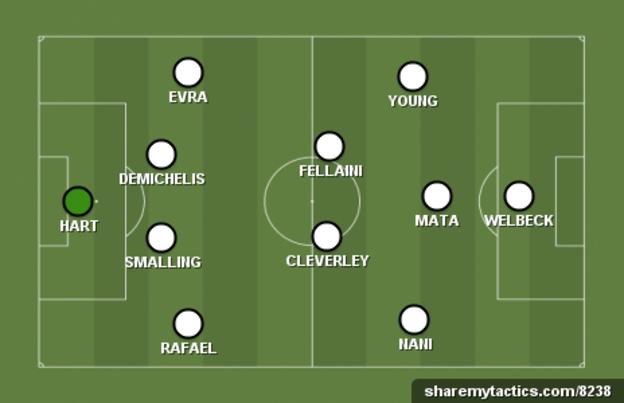 The Manchester 'underperforming XI'
Joe Hart (Man City); Rafael, Chris Smalling (both Man Utd), Martin Demichelis (Man City), Patrice Evra; Tom Cleverley, Marouane Fellaini; Nani, Juan Mata, Ashley Young; Danny Welbeck (all Man Utd).
Joe Hart hasn't had a bad season overall, but had a dodgy spell earlier in the year and was dropped by manager Manuel Pellegrini for nearly two months. While he's been good since he came back, he's still underperformed on the whole. Being left out did him the world of good.
Hart kept only three clean sheets in nine Premier League games before being dropped earlier this season - but has four in a row currently

Rafael is too rash and he switches off defensively at times - you could say the same about all of this back four.
Rafael has only completed 16 of the 41 dribbles he has attempted this season in the Premier League
Martin Demichelis has had a terrible run. He makes mistakes in big games and cost City against Barcelona by being sent off and conceding a penalty. Like all the defenders in this team, he has been guilty of a lack of concentration.
The Argentine scored his first goal in domestic competition in over a year by netting against Fulham this weekend. His last goal was on 9 March 2013, for Malaga against Valladolid
Again it was difficult to pick a second centre-back but Chris Smalling's passing is not good enough at this level, so he gets the nod.
United have won two of the last three Premier League games Smalling has missed, keeping a clean sheet in both victories
Patrice Evra gets beaten too easily in one-on-one situations. He hasn't been good enough this season and will need replacing in the summer.
Evra has recorded his lowest pass-completion rate since the 2009-10 season (83%)
Tom Cleverley needs to decide what his game is about. Is he a box-to-box player? Is he a passer from deep? Can he tackle? He has no identity. But he is not a bad player and the petitions calling for him not to play in the World Cup are ridiculous. I hope he does well and has a good season next year. I think he can.
Cleverley has gone 20 Premier League appearances without providing an assist
Javi Garcia was close to making my team. He has never convinced since Roberto Mancini signed him for City in 2012. He has not had much opportunity but has done nothing to justify the money City spent on him.
However, instead I have gone for Marouane Fellaini. He hasn't performed at all and came with a massive price tag of £27.5m. Is he a holding midfielder? Like Cleverley he hasn't really identified a position and has not had an impact on any game yet, not like he did at Everton.
Fellaini has averaged 0.5 shots on target per game with United this season; at Everton last season he managed a rate of 1.13

Juan Mata hasn't been great at all. He's certainly underperformed, though he has mainly played out of position since joining United in January. He wants to play in the hole behind the striker, which is his best position, but has been stuck on the wing by Moyes.
He hasn't got the legs to play out wide, he can't get back and help out his defence and you can see now why Jose Mourinho was happy enough to let him go for £37m. He needs to get on the ball and create things. Out wide, there's no point in him being on the pitch. He played more centrally at West Ham at the weekend and was much improved.
Mata has managed only four shots on target (one for Chelsea, three for United) in the Premier League all season
On the wings, Nani and Ashley Young are frustrating players. They'll score you the odd good goal but their crossing has been poor and they just don't offer enough. Every time they have a good game you wonder if they have turned the corner, only for them to be back to their mediocre best again.
Nani has the lowest pass completion of any outfielder at Manchester United this season (76.9%), while Young's assist against West Ham on Saturday was his first in the Premier League since December 2012
Picking a striker was difficult. Javier Hernandez has only scored twice in the Premier League but he's not been given many chances, only starting four games.
Robin van Persie has not been at his best but has still managed to score 17 goals in all competitions, and Edin Dzeko has weighed in with some important goals for City too.
So I've gone for Danny Welbeck. He can be unbelievable one minute and non-existent the next. He doesn't score enough goals to play up front for Manchester United - nine in the Premier League this season - and, like a lot of United players, looks short of confidence.
Only three of Welbeck's nine Premier League goals this season have come at Old Trafford - mirroring the club's problems in home games
Robbie Savage was talking to BBC Sport's Tom Rostance. All stats courtesy of Opta.