Champions League: Manchester United face Bayern Munich test

By Phil McNulty
Chief football writer
Last updated on .From the section Champions League716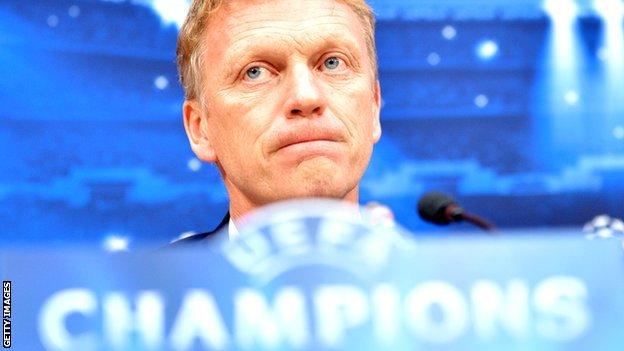 Manchester United's Champions League story has been intertwined with both Bayern Munich and Pep Guardiola - and now they meet again as manager David Moyes contemplates arguably the toughest quarter-final draw of this season's competition.
This is the tie that is already being labelled "David v Goliath" as the relative European rookie Moyes comes up against the Catalan coach with the glittering Champions League CV.
It was against Bayern Munich that United fashioned one of the tournament's most dramatic victories with two stoppage time goals to win the title in the Nou Camp in 1999.
Guardiola, now leading Bayern's mission to become the first club to retain the Champions League, has been United's nemesis as they were comprehensively outplayed by his Barcelona teams in finals in Rome and at Wembley in 2009 and 2011.
The size of United's task was illustrated by unmoved outsiders' odds of 20-1 to win the tournament after the draw was made - although Chelsea and manager Jose Mourinho will feel they have a real chance of overcoming Paris St-Germain to reach another semi-final.
For United, after staging a comeback to beat Olympiakos in the last round, Bayern probably represent the worst case scenario given Guardiola's pedigree, record against United and the growing stature of the Bundesliga giants.
Bayern also have a recent record of success against United having eliminated them at the quarter-final stage in 2010 - and there is no doubt they enter this last-eight tie as favourites.
For all United's resilience in coming back against Olympiakos, Bayern are on a different plane to the Greeks and have strengths in areas where Moyes' side have some of their most glaring weaknesses.
One is in midfield, where Bayern boast the brilliance of Bastian Schweinsteiger, Javi Martinez, Mario Gotze and - most intriguingly of all - Toni Kroos while Moyes had to resort to recalling 40-year-old Ryan Giggs to restore order against Olympiakos.
Kroos, 24, has been touted as a prime summer transfer target for Moyes as he is currently involved in a contract impasse with Bayern. It still takes a leap of faith to imagine a young player of such ambition and quality leaving a club at the top of Europe's elite for one who may (at best) only be able to offer Europa League football and requiring a radical rebuild.
The games will give Moyes another opportunity to witness the class of Kroos at close quarters - but also give Kroos the chance to examine what might be required of him should he seriously contemplate a move to Old Trafford.
United always have a puncher's chance with the quality of Wayne Rooney and Robin van Persie in attack but a desperately vulnerable defence will offer optimism for Bayern, especially down the flanks where Franck Ribery and Arjen Robben will look to prey on the erratic Rafael as well as Patrice Evra, who is suspended for the first leg.
Moyes will talk up the challenge awaiting United but on the evidence of this season so far it is one that they will struggle to overcome.
Chelsea have hardly been handed an easy tie in the shape of big-spending Paris St-Germain but Mourinho will feel it could have been much tougher and will be heartened by the second leg being at Stamford Bridge.
The key to this tie is likely to be how Chelsea handle the magnificent natural talent of Zlatan Ibrahimovic. He has often disappointed against English clubs in the Champions League but Mourinho knows the damage he can wreak having worked with the Sweden striker at Inter Milan.
The pair built up a great mutual respect, not always the case with such strong and outspoken characters, and how Chelsea captain John Terry and his defensive partner Gary Cahill cope with Zlatan may shape the outcome of this quarter-final.
It is not simply the Zlatan show at PSG. Chelsea must also be wary of the threat of Edinson Cavani, another striker of the highest class and Luis Suarez's partner at international level with Uruguay.
Coach Laurent Blanc, who succeeded former Chelsea manager Carlo Ancelotti, has settled well to his task and is already on course to win the French title. Champions League success will be the next demand from PSG's oil-rich Qatari owners.
This will not stop Chelsea feeling a guarded optimism about what awaits them while United may just feel they drew the short straw in Nyon.