Hereford United: No miracles at Edgar Street, says boss Beadle
Last updated on .From the section Football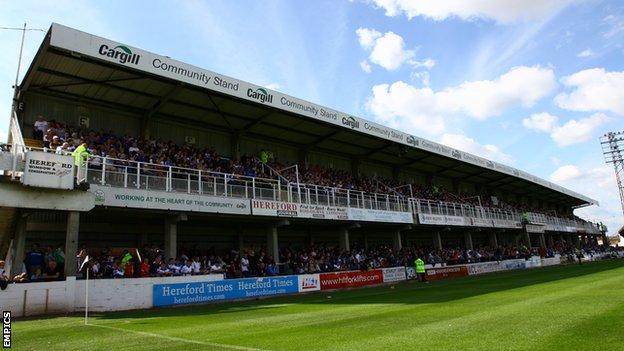 New Hereford United caretaker manager Peter Beadle warns that there are no "miraculous changes" at Edgar Street, and they just need to show a little faith in their under-fire players.
But Beadle said: "There's no miraculous changes in such a short space of time.
"We need to get belief into the players and show some faith in them."
Hereford's players released a dressing-room statement on Friday afternoon, accepting responsibility for the decline that has seen them slump to within four points of danger in the Conference Premier.
They also pointed out that the club's continuing financial problems - and shortfalls in their wage packets - have left them feeling unmotivated.
"Following a meeting with the chairman on Thursday, we expressed that the lack of clarity regarding our wages has no doubt coincided with the run of poor form," it read.
"It's now public knowledge that we haven't been paid correctly for over two months. Anyone, in any walk of life, would find that tough.
"We acknowledge that our performances have been below what is needed. This has culminated in Martin Foyle and Andy Porter losing their jobs.
"Although they probably have regrets and, with hindsight, may have done things differently, we all accept that our performances have cost them.
"We were all signed by them so we all owe them that debt of gratitude. However, the chairman has made his decisions and we all now stand 100% behind Pete Beadle and Steve Jenkins.
Beadle admits that, even in the light of the Conference Premier club's continued financial problems, as they remain under threat of administration, there is now a great deal more positivity following the players' clear-the-air meeting with chairman David Keyte.
"We were taken aback with the gaffer and Ports leaving," he told BBC Hereford & Worcester.
"Even after the recent run of performances and results, it was still a surprise.
"We know there have been problems at the club for a long time and it's been a difficult few months.
"But the players needed that bit of clarification. They now have to approach it in the right frame of mind.
"Everyone has to focus on the job in hand, which starts at Barnet on Saturday.
"It only takes one game to turn things round. One performance could flip it all around, and that could be on Saturday."