Wrexham: Players deserve a chance to impress - Kevin Wilkin
Last updated on .From the section Football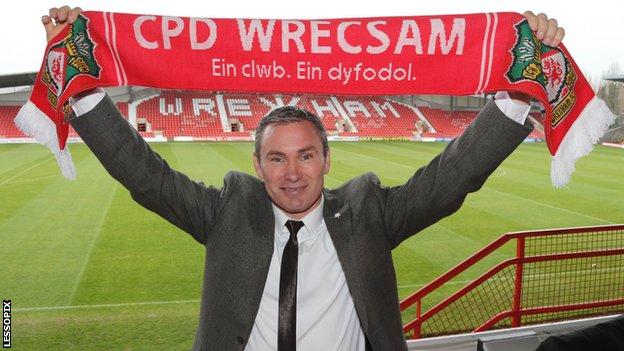 Kevin Wilkin says Wrexham players will be given an opportunity to impress him and secure new contracts for next season.
Only five members of Wrexham's current squad are under contract for next season.
"I think they deserve a chance in front of a new manager," Wilkin said.
"There's six weeks or so left of the season and it's a great opportunity for me to make decisions on people and have a look at them.
"Ideally, I'd like to give most of those out there the opportunity to show what they're all about first and foremost.
"I'm pleased with what they've done this morning. Hopefully we can develop that and grow that relationship."
Wilkin, who took his first training session on Friday ahead of the home game against Salisbury City, has not ruled out adding to the squad.
He said any transfer targets would be discussed with chief executive Don Bircham and newly-appointed football operations chief Barry Horne.
"If there's a possibility we can get anybody in then that's something I'll discuss with Don and Barry," Wilkin added.
"Finances will possibly dictate whether there's a need to do that or not."