Liverpool's ex-Swan Joe Allen wants Cardiff City scalp
Last updated on .From the section Football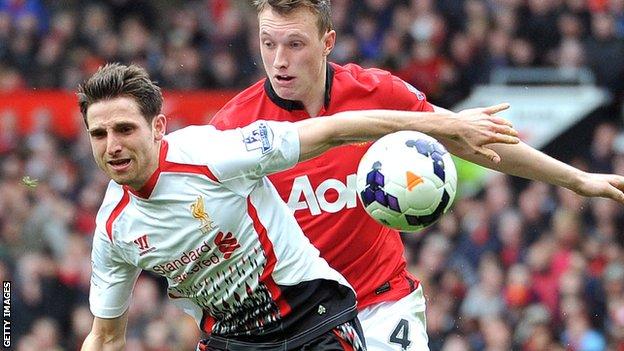 Former Swansea City midfielder Joe Allen is hoping his Liverpool team pile more relegation pressure on Cardiff City when they visit the Welsh capital.
The 24-year-old Wales international is enjoying a run in Brendan Rodgers' side as they put pressure on Premier League leaders Chelsea.
He says it is important to follow up the 3-0 win over Manchester United with another good display on Saturday.
"We must perform and make sure we build on the win last weekend," said Allen.
"I've enjoyed being a part of what's been a successful season up to date and I think there's still more to come."
Liverpool are lying second in the Premier League, four points behind the leaders and with a game in hand.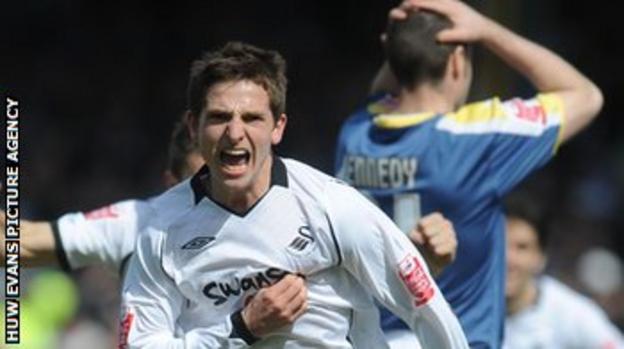 Their opponents on the other hand are second from bottom with manager Ole Gunnar Solskjaer battling to avoid relegation having taken over from Malky Mackay at the end of December.
Allen was taken to Liverpool from Swansea for £15m in the summer of 2012 in one of manager Rodgers' first transfers after moving to Anfield from Liberty Stadium.
And after spending 13 years at Swansea as a youth and senior player, Allen has plenty of experience against the Bluebirds - the Swans' arch rivals.
He scored for Swansea in a 2-2 draw in the South Wales derby in 2009, so any visit to Cardiff has extra spice for Allen.
"It's a game to look forward to for me," he said.
"I've had some great south Wales derby matches in my time at Swansea - some good memories and bad memories from those games and for that reason I'm going to look forward to returning to the Cardiff City Stadium."
Allen has been surprised by the on-going controversies at Cardiff.
Saturday's match will be preceded by a march by supporters continuing to protest against majority shareholder Vincent Tan's decision to switch the team's colours from blue to red.
The protest comes during a season that has seen the dismissal of Mackay, who guided the club to the Premier League, and his head of recruitment Iain Moody over an alleged overspend on transfers.
"Chaotic is probably a good word to describe it," said Allen of events at Cardiff this season.
"Of course unless you're inside that dressing room and working inside the club you'll never know the full story - but it certainly seems it from the outside.
"The dismissal of Malky Mackay seemed a very strange one.
"But they've had to move on from that now and they've certainly got a test on their hands to try and stay in an incredibly tough Premier League."
And for that reason Allen believes Cardiff will be dangerous opponents for Liverpool.
"Obviously they're going to have to pick up some vital victories," added Allen.
"I'm sure Liverpool will find out this weekend at home is where they are going to look to pick up most of their points."