Debt-free Scottish clubs can live long and prosper
By Richard Wilson
BBC Scotland
Last updated on .From the section Football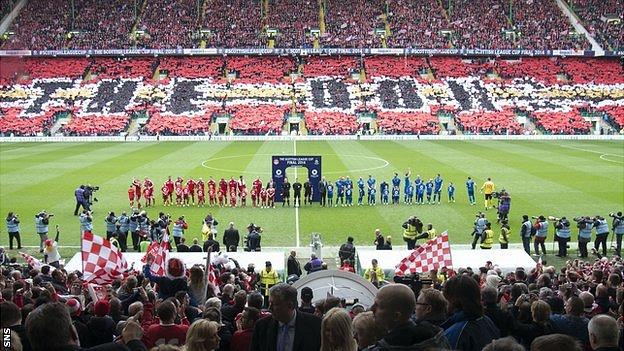 There are still challenges to overcome, not least the continuing lack of a title sponsor for the Scottish Professional Football League, but individual clubs can still thrive.
The level of debt being carried by top-flight teams is falling, and that presents an opportunity.
Dundee United and Kilmarnock recently secured debt-reduction deals with Lloyds Bank. Two clubs whose financial priority had to be servicing seven-figure debts can now maximise the worth of their incomes.
Celtic's interim results for the financial year to 31 December showed a surplus in the bank, while Motherwell, St Mirren, St Johnstone and Inverness Caledonian Thistle are all free of long-term debt.
Hearts are due to emerge from administration with the Foundation of Hearts having taken over a debt-free club that will eventually be turned over to full supporter ownership when the purchase price is paid back through fan subscriptions.
Ross County's rise up the leagues has been enabled by the largesse of Roy MacGregor. Hibernian and Aberdeen are still carrying debt, around £5m and around £9m respectively, but there is an appetite within Lloyds Bank to seek an outcome that protects the community aspect of football clubs, as seen in the deals struck with Dundee United and Kilmarnock.
The effect is to present Scottish football with a chance to redraw its priorities and establish a time of financial stability.
"Banks are taking more of a pragmatic view, which says that what we really want is out of this situation, so we will do a deal, if that makes sense, and if the club can sustain itself," says Charles Barnett, the professional sports group partner at BDO, whose annual review of football finances will be published at the beginning of next season.
"There's been one or two clubs recently, like Motherwell, who since they got out of their [financial] troubles have regularly reported a break-even type model. That doesn't mean breaking even every year, but over a period of time, so a small profit one year and a small loss the next.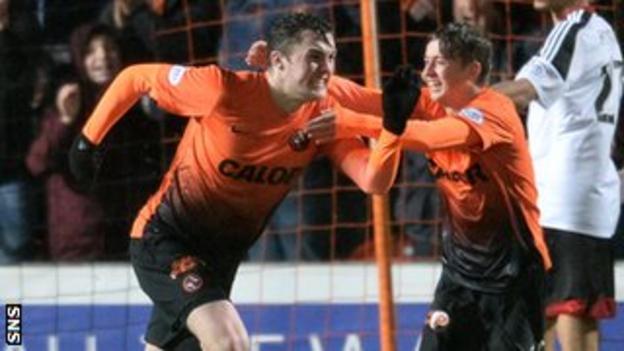 "We have less sponsorship income in general around the country, TV revenues aren't going anywhere at the moment and attendances at some clubs are doing well and falling away a bit at others. It's an incredibly challenging environment. But this is an opportunity."
The removal of debt burdens allows clubs to focus on reinvesting in sporting performance. Dundee United offer a prime example, since the club's youth development programme has delivered a regular supply of promising young talent into the first-team squad.
Transfer fees were inevitably required for the likes of David Goodwillie - £2m to Blackburn Rovers - and Johnny Russell - £750,000 to Derby County - since United had debt payments to service.
The Tannadice club can drive a harder bargain now that a group of fan investors have contributed to the wiping of £4m in debt. Clubs will covet the likes of Stuart Armstrong, Ryan Gauld, John Souttar and Andrew Robertson, but United are under no pressure to sell.
This allows Scottish clubs more leeway in attempting to keep young talent in the country for longer before the financial pull of the English game eventually draws them south.
Aberdeen are among those who have suffered from losing players before they establish themselves in the first team, with Jack Grimmer leaving for Fulham when he was 17 and Ryan Fraser leaving for Bournemouth at 18.
Hibernian and Hearts have established a strong reputation for developing young talent, and Scottish clubs can exploit the worth of that reputation. English teams will always be able to offer higher wages, but many young Scots, like Goodwillie and Grimmer, have travelled south and seen their careers stall.
To keep young talent in the country for longer, and to the benefit of Scottish football, players need to be certain that their game will develop further through regular first-team experience. That will enable them to become better and so still attract a future transfer, but clubs needs to be financially stable enough to make decisions based on sporting rather than income merits.
"The stronger the club's financial position, the stronger they can be in the transfer market," says Ross Wilson, formerly head of football development at Falkirk and now head of football operations at Huddersfield Town.
"But also, the stronger the club's brand becomes in terms of being regularly capable of producing young players, so they can eventually leave at a premium.
"For example, Crewe Alexandria are a League One club, but when they sell players it's at a premium compared to clubs around them, because historically they have a reputation for being a strong developer and seller of players.
"That could be replicated in Scotland, with clubs consistently producing players for the first team."
Most clubs will have no option but to live within their means, so the ideal is to improve those circumstances.
The benefactor model has been undermined following the financial collapses of Hearts, Rangers and Motherwell, while supporters are less inclined to welcome investment for the purpose of making a return because sporting performance needs to be the priority.
There is also little wealth to be made in the Scottish game when external revenue streams are so modest.
"No bank is prepared to lend new money into the sector in Scotland," says Barnett. "Therefore clubs have to learn to live within their means. And what's the purpose of a football club?
"In my view, the objective should be to operate a balanced budget over a period of time, not making big or regular small profits."
Youth development, smart player trading, all from a stable financial basis, offers Scottish football clubs an opportunity to build a sense of optimism.
Supporters also tend to bond with home-grown talent, while the national team will benefit from a growing emphasis not only on academy graduates, but finding a way to keep them in Scottish football for longer so that if they eventually leave for England, they are better able to thrive at a higher level.
"I'm struggling to think of a club that has made significant investment in its youth academy and not managed to produce players," says Wilson.
"If you're making proper investment in it, in terms of the structure and the people you bring in, then it reaps the rewards of players being produced and being sold."