Cameroon's normalisation committee to stay on
By Leocadia Bongben
BBC Sport, Yaounde
Last updated on .From the section Football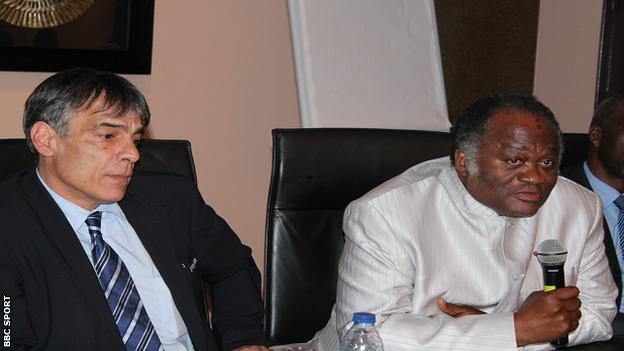 Fifa's executive committee has extended the mandate of a normalisation committee, set up to run Cameroon's Football Federation (Fecafoot), by a further eight months.
This would enable the transitional committee to lead the Indomitable Lions to the 2014 World Cup in Brazil and stay on until 30 November 2014.
Fifa installed the normalisation committee on 22 July 2013 with the mission to revise the statutes, conduct elections and manage the daily affairs of Fecafoot.
It came after Fifa banned Cameroon for governmental interference into the running of the country's football. The condition for the lifting of the ban was that the committee was allowed to begin work.
Fifa's Primo Corvaro and Confederation of African Football (Caf) representative Prosper Abega recently visited Cameroon to examine the statutes of Fecafoot from 14-15 March, with Corvaro telling Cameroonians to expect the extension of the mandate:
"Though I am not here to announce the extension of the normalisation committee, you can expect that it would happen. To comply with the Fifa deadline of 31st March won't be possible in 16 days. This is not possible so we are considering the extension of the mandate of the normalisation committee."
It is understood that the extension is circumstantial, and not a reflection or suggestion of bad management.
Corvaro said Fifa had underestimated the work to be done and would likely give more time for the committee to complete their work.
"The depth of the change is really big. We didn't know at the beginning that we needed so much time to do so much.
"I can say the statutes that will be put forward to the delegates which cover almost everything, are of the highest quality and even the best quality that you can find in member associations".
The normalisation committee acts as Fecafoot's electoral body as well as revising the Federation's statutes.
Next week, the phase of adopting the statutes will begin. After that, elections will be organised in relation to the statutes with an electoral commission.
However, Corvaro says elections will not be organised immediately, taking into account that Cameroon will be taking part in the World Cup.
Joseph Owona, President of the Normalisation Committee, expressed satisfaction with the members whom he described as "professionals."
He said the committee, with the knowledge of Cameroon football, would continue to create good statutes to organise elections that meet Fifa standards.
"It was not a question of changing only article 4, and not to copy and paste the statutes of Fifa, but to put a Cameroonian touch on it", Owona said.